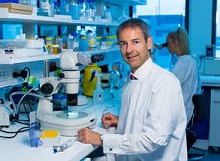 A range of research scholarships for graduates undertaking a higher degree by research are available at Victoria University.
The 2017 Victoria University Graduate Research Scholarship main rounds are now closed.
If your application is not dependent upon a main round graduate research scholarship you can apply for a research degree at any time throughout the year. In addition to these scholarships there are a range of other options for funding your research degree.
Scholarships available
Applicants only need to submit one application to be considered for all eligible graduate research scholarships.
International applicants will be considered for the:
International Postgraduate Research Scholarship (IPRS)
Victoria University International Research Scholarship (VUIPRS)
College Centenary Postgraduate Research Scholarship.
You do not need to nominate a particular scholarship on your application form.
Domestic applicants will be considered for the:
Australian Postgraduate Award (APA)
Victoria University Post Graduate Research Scholarship (VUPRS)
Vice Chancellors Graduate Research Award.
Domestic students are only required to nominate on the scholarship application form if they are applying for the VU Diversity Scholarship.
More information about these scholarships including value and eligibility is available on the graduate research scholarships page. Applicants are also advised to read the Graduate Scholarship Application Guide.
Applications
Step 1: Select a degree
Specify which research degree you applying for and the College you will be studying in.
Masters by Research: build on skills and knowledge from an undergraduate degree.
Doctor of Philosophy (PhD): conduct research that leads to new knowledge or re-interprets existing ideas, theories and approaches.
Professional Doctorates: focus on issues in a particular profession and conduct independent research to make an original contribution to improving practice. Research scholarships are offered for the following Professional Doctorates:
Students within Year 1 of the PhD (Integrated) are not eligible for a scholarship but are able to apply for Year 2 onwards.
Step 2: Check your eligibility for a graduate research scholarship
Eligibility for scholarships varies depending on the scholarship, and whether you are a domestic applicant (defined as an Australian citizen/Australian permanent resident/New Zealand citizen) or an international applicant.
Information about eligibility is available on the graduate research scholarships page and in the Graduate Scholarship Application Guide.
Step 3: Meet minimum academic entry requirements
All applicants must meet the University's minimum academic entry requirement of a 70% (Distinction VU standard) average in the most relevant qualifying degree.
Applications for graduate research scholarships are always highly competitive. Therefore, applicants are expected to have, at minimum, a 1st class honours (80%+ average) or equivalent.
Degree name
Minimum entry requirement
Doctor of Philosophy

A four-year bachelor degree with honours, or an honours degree at H2A/Distinction (above 70% VU standard)
OR/AND
Masters by coursework degree with minor thesis with average grades of at least H2A/Distinction (above 70% >VU standard)
OR/AND
Masters by research degree, or demonstrated exceptional ability during partial completion of a research project in a Masters by research degree.

Master by Research

A three or four-year bachelor degree with average grades of at least H2A/Distinction (above 70% VU standard) in the final year,
OR
Other equivalent qualification or professional experience demonstrating a capacity to undertake a Masters by Research.

Doctor of Business Administration

A Master of Business degree or its equivalent with average grades of at least H2A/Distinction (70% VU standard)
AND
Have completed at least two years' appropriate work experience.
For details on Australian comparability of your overseas qualification(s), please refer to the international academic requirements for a higher degree by research.
English requirements
| English language examination method | Result |
| --- | --- |
| International English Language Test System (IELTS) (academic module): Overall score (no band less than) | 6.5 (6.0) |
| Test of English as a Foreign Language (TOEFL) internet: Test score | 79 (listening 19, speaking 19, reading 18, writing 22) |
| Pearson Test of English (PTE): Overall score (with no section score less than): | 58-64 (50) |
| University of Cambridge - Advanced (CAE): Total score | 58 |
| VU English - University Preparation UPP (Postgraduate) | Achieved |
| English Language School in Sydney (ELSIS) - EAP 2 (advanced) | A grade |
In some circumstances we will accept test results from other methods of examination not listed in this table.
If you have completed a qualification where English was the primary language of instruction, you may be eligible for an English language exemption. Check our Guide to English Language Requirements to find out if you qualify for an exemption.
Step 4: Review our Areas of Research Focus
Applications are ranked on the basis of merit with preference given to applicants who pursue a research degree in one of Victoria University's areas of research focus.
As a graduate research scholarship applicant you are required (within the application form) to name the Research Focus Area which most closely aligns with your area of research.
Step 5: Prepare your research proposal & CV
Research proposal
All Higher Degree by Research applicants are required to prepare a research proposal for submission.
Your research proposal should be 1- 2 pages (typed, A4) containing:
title of the research proposal
name and College of your nominated supervisor (on the title page)
aims
significance of the research
methodology and research techniques
facilities and equipment required.
CV
Your CV should include:
your educational qualifications
most relevant and up to date professional work experience
a list or recent research publications, if applicable.
Step 6: Confirm your supervisor
Applicants must have supervision confirmed before submitting their application form.
Use the table below to identify the academic point of contact for the research theme that most closely matches your research area.
Send an email to the Academic Point of Contact for your selected research theme:

request the nomination of a principal supervisor appropriate to your research area
attach a copy of your Research Proposal and CV.

Once your supervision has been confirmed you will be required to provide the name of the confirmed supervisor on your application form and attach the confirmation email.
Research theme
Academic point of contact details
Cultural and social studies, including cultural diversity and well-being
TBC
Chronic disease, prevention and management
Professor Maximilian de Courten
Email: maximilian.decourten@vu.edu.au
Community health, including nursing, psychology and social work

Professor Terence McCann (nursing and midwifery)
Email: terence.mccann@vu.edu.au

Associate Professor Christopher Sonn (psychology)
Email: christopher.sonn@vu.edu.au

Professor Marty Grace (social work)
Email: marty.grace@vu.edu.au

Engineering, including chemical, civil, electrical, electronic, fire safety, mechanical and risk engineering

Professor Stephen Collins
Email: stephen.collins@vu.edu.au

Professor Vasily Novozhilov
Email: vasily.novozhilov@vu.edu.au

Food science, processing and packaging

Professor Todor Vasiljevic (food science)
Email: todor.vasiljevic@vu.edu.au

Professor Stephen Bigger (food packaging)
Email: stephen.bigger@vu.edu.au

Economics, including policy studies and strategic economic development

Professor Bruce Rasmussen
Email: bruce.rasmussen@vu.edu.au

Professor Glyn Wittwer
Email: glyn.wittwer@vu.edu.au

Creative writing
Dr Enza Gandolfo
Email: enza.gandolfo@vu.edu.au
Supply chain and logistics
TBC
Sport: science, exercise, human movement and active living
Professor Andrew Stewart
Email: andrew.stewart@vu.edu.au
Medical physiology, pharmacology & pharmaceutical sciences

Associate Professor John Price (physiology and pharmacology)
Email: john.price@vu.edu.au

Professor Glenn McConell (physiology)
Email: glen.mcconell@vu.edu.au

Applied informatics, mathematics, computing and artificial intelligence
Professor Yanchun Zhang
Email: yanchun.zhang@vu.edu.au
Education: policy and systems, equity and access, and the educational experience across the lifespan
Dr Marg Malloch
Email: marg.malloch@vu.edu.au
If your intended topic of research does not align with one of the above research themes please contact the relevant College Research and Research Training Director in order to confirm supervision:
College of Arts: Professor Phillip Deery
Email: phillip.deery@vu.edu.au
College of Business: Dr Jo Vu
Email: jo.vu@vu.edu.au
College of Education: Dr Marg Malloch
Email: marg.malloch@vu.edu.au
College of Engineering and Science: Professor Stephen Collins
Email: stephen.collins@vu.edu.au
College of Health and Biomedicine: Associate Professor John Price
Email: john.price@vu.edu.au
College of Law and Justice: Professor Anona Armstrong
Email: anona.armstrong@vu.edu.au
College of Sport and Exercise Science: Professor Andrew Stewart
Email: andrew.stewart@vu.edu.au
Step 7: Submit your application
The application form is an interactive PDF that must be downloaded, opened and completed in a current version of Adobe Acrobat or Adobe Reader.
Before you submit your application:
Review the information in the Graduate Scholarship Application Guide
Instructions for completing the scholarship application will be available later this year, when the scholarship round opens.
Download and complete the Graduate Research Scholarships Application Form.
Combine the application form and all the supporting documentation (including the email confirming supervision provided by the Academic Point of Contact) into a single PDF file. A full list of required and supporting documentation is available in 'How to complete the Scholarship Application Form' document.
Attached the PDF file to a single email.
Submit the completed application and supporting documentation (as a single email) to the appropriate email address by the deadline specified below.
Step 8: Referee reports
Notification of outcomes
Both domestic and international applicants will be contacted in mid-December regarding the outcome of their application.
Contact us
If you have any questions please email researchscholarships@vu.edu.au.