Careers
Many of our graduates gain employment in the following industries:
hairdressing
make-up
modelling.
Colleges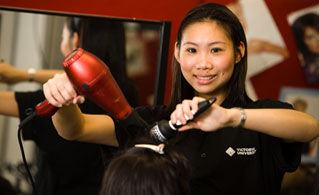 Short courses
3 courses
Learn to use the latest styling techniques to control the fluidity of hair, utilise natural colour or add hair pieces, create fashion effects for overall presentation.
Learn the urban barbering techniques of clipper fading to join the growing barbering industry. This hands-on workshop will advance your clipper work.
Develop the specialised knowledge and skills to apply eyelash extensions in a professional and hygienic manner.
TAFE certificates & diplomas
3 courses
Become a qualified barber and learn the full range of barbering skills and hairdressing techniques when you study the Certificate III in Barbering.
Fulfil your dream of working in the hairdressing industry with a Certificate III in Hairdressing at Victoria University Polytechnic.
Kick start your career in hairdressing and develop the basic skills and confidence needed to work in a salon.
Course guides
View all our courses for Australian residents, plus learn about:
I completed my hairdressing apprenticeship at Victoria University as a work-based training student. VU was chosen by my mentor who believes it is the best institute for salon training because of its focus on on-the-job training.

Jessie McAllister