Discover the range of inspiring exercise science courses available from Victoria University. We offer courses to spark your passion in areas including sports engineering and physical education teaching. Study at degree or postgraduate level.
Careers
Our graduates find employment opportunities including:
sports psychologists
rehabilitation specialists
physical education teachers
sports engineers.
Colleges
Our exercise science courses are provided by our: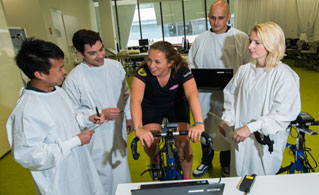 Bachelor degrees (undergraduate)
7 courses
Postgraduate
1 course
Fees:
2020: A$15,100*
* fee per semester
Become an accredited exercise physiologist (AEP) with a Master of Clinical Exercise Science and Rehabilitation at Victoria University.
Short courses
1 course
EAP is a university and TAFE preparation course. It is designed for students with upper intermediate to advanced levels of English who want to gain admission to an Australian TAFE, undergraduate or postgraduate course.
Studying at VU
Learn more about studying at VU as a non-resident: