Careers
Many of our graduates gain employment in the following roles:
nutritionist
physical education teacher
psychologist
biologist
physicist
computer science professional
researcher.
Colleges
Our science courses are provided by our: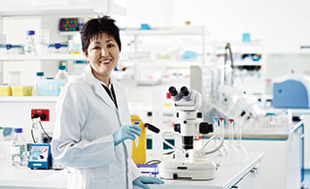 Short courses
1 course
EAP is a university and TAFE preparation course. It is designed for students with upper intermediate to advanced levels of English who want to gain admission to an Australian TAFE, undergraduate or postgraduate course.
Bachelor degrees (undergraduate)
6 courses
Postgraduate research
11 courses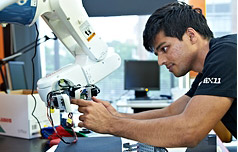 Research postgraduate
Our Office for Research provides support to our current and future researchers, such as:
identify a research topic
find a supervisor
apply for research supervision or grants.
Develop a capacity for solutions through independent research and problem analysis. You will expand and develop specialist knowledge in your chosen field of research and provide evidence of independent thought and the ability to manage a research project.
Make real advances in IT and mathematical modelling with original research in your PhD in Information and Computer Sciences.
Contribute important ideas to the medical field, with a PhD in Medical and Biological Sciences.
Help resolve food security challenges facing growing populations with PhD in Food Sciences & Technology.
Contribute important findings with a PhD in Science conducted in VU's world-class research institutes and collaborative industry studies.
Study towards a PhD in Medical and Biological Science with additional research training.
Our integrated program allows graduates without a research background to undertake a PhD in Food Sciences and Technology.
Undertake important scientific research ecology, food science or biomedicine. Our integrated program offers graduates research training needed to begin a PhD in Science.
Enhance your knowledge across various research fields and focus your practical skills into specific research areas in health, IT and science.
Enhance your range of knowledge in various research fields across health, biomedicine, IT and science.
Enhance your range of knowledge in various research fields across health, biomedicine, engineering and science and to enable a focusing of practical skills into a specific research area.
Course guides
View all our courses for Australian residents, plus learn about:
I had many opportunities for professional development and extracurricular activities that were critical to my success. I was able to do more than just study in a laboratory. Through VU, I got hands-on experience at the National Measurement Institute where I now work as an analytical chemist and research scientist.

Kuorwel Kuorwel