Our research aims to both investigate and inform the health professions through the use of outcome measures and questionnaires. Education, practice, research. The focus of the research is on the psychometric properties of these questionnaires using a range of statistical approaches and using these measures with various clinical populations.
Areas of research
Our group has developed a range of collaborations both within Victoria University and with external organisations. Our research focuses on a range of areas.
Use of outcome measures:Encouraging the use of valid and reliable measures of symptoms including function, pain, and disability in health professional education, research and clinical practice 
Mental health screening: 

Use of questionnaires to screen manual therapy patients for mental health issues including depression and anxiety.

Evaluating dispositional optimism: 

Using questionnaires to evaluate patient's self-reported optimism related to health status and treatment outcome.

Patient experience of manual therapy treatment Evaluating what patients experience during and after their treatment
Measurement in clinical education: 

Clinical education is a key part of the training of health professionals, and various measures can inform curricula and workforce development
Current projects
Health status and demographic profile of patients presenting to osteopathy clinics
Patient satisfaction and experience with osteopathic treatment
Development and testing of a single item quality of life screening question
Measurement of self-reported daily activity
Psychosocial impact of lower extremity tendinopathies
Measurement of health literacy in student health professional populations
Our researchers
Name
Phone & email
Research interests
Dr Jane Mulcahy

+61 3 9919 1140
Jane.mulcahy@vu.edu.au

Mental health screening
Health psychology
Chronic pain assessment & management
Determinants of health & chronic disease
 Questionnaire development

Brett Vaughan

+61 3 9919 1210
Brett.vaughan@vu.edu.au

Research in manual therapy
Assessment & evaluation in health professional education
Questionnaire development
Statistical analysis
Key publications are available by clicking on the team members above.
Patient Perception Measure – Osteopathy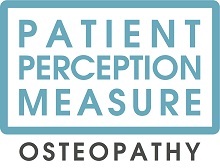 The Patient Perception Measure – Osteopathy has been developed to measure the patient's experience with their osteopathic treatment. The original scale was designed to measure the patient experience of a single osteopathy in the cranial field treatment. Subsequent revisions have developed a measure that can be used with patients regardless of the osteopathic techniques provided.
Relevant publications
Mulcahy, J., Vaughan, B., Boadle, J., Klas, D., Rickson, C., & Woodman, L. (2013). Item development for a questionnaire investigating patient self reported perception, satisfaction and outcomes of a single osteopathy in the cranial field (OCF) treatment. International Journal of Osteopathic Medicine, 16(2), 81-98.
Mulcahy, J., & Vaughan, B. (2014). Sensations experienced and patients' perceptions of osteopathy in the cranial field treatment. Journal of Evidence-based Complementary & Alternative Medicine,19(4), 235-246.
Mulcahy, J., & Vaughan, B. (2015). Exploring the construct validity of the Patient Perception Measure–Osteopathy (PPM-O) using classical test theory and Rasch analysis. Chiropractic & Manual Therapies, 23(1), 6.
Contact us
Dr Jane Mulcahy
Health Psychologist
Phone: +61 3 9919 1140
Email: jane.mulcahy@vu.edu.au
Brett Vaughan
Osteopath
Phone: +61 3 9919 1210
Email: brett.vaughan@vu.edu.au