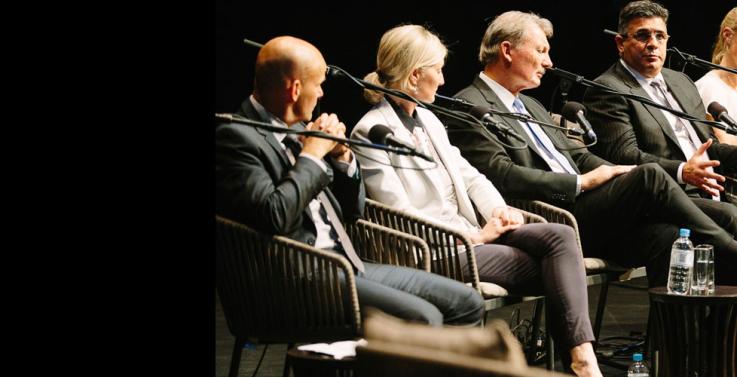 Around 300 of Australia's sporting leaders met at the 'Integrity in Sport - Winning at what price?' Forum to tackle the growing issue of integrity in sport.

Match fixing, gambling, drugs, salary cap rorting and athlete behaviour attacking the cultural values of Australian sport were all under the spotlight. The issues of pressure on athletes and clubs to perform and the role sport science plays in today's sport were explored.
The forum was jointly hosted by the Sport Australia Hall of Fame and Victoria University, with the support of the Australian Institute of Sport and Lander & Rogers Lawyers.
Moderated by journalist Francis Leach the guest panel featured:
John Bertrand of the Sport Australia Hall of Fame
Andrew Demetriou, outgoing CEO of the AFL
Olympic Athlete Kim Crow
Simon Hollingsworth,CEO if the Australian Sports Commission, Sport Ethicist and VU alumna
Pippa Grange
Professor Hans Westerbeek, Dean of the College of Sport and Exercise Science.
Victoria University's Dennis Hemphill, who is an Associate Professor in Sport Ethics said,
"The 'crisis' events of Australian sport last year suggest that radical changes are required to re-build the integrity of Australian sport.

"The challenge is how to maintain the integrity of sport and public trust without resorting to a police state to achieve it. There will be those who argue for more surveillance, policing and punitive powers and those who argue for education, culture change, organisational change and community development. The former has the momentum, but the crisis events of last year suggest that the latter might be needed.
Associate Professor Hemphill said,
"Sport is held up as having the potential to promote a range of values, including participation, excellence, fairness, skill development, fun, self-discipline and hard work, teamwork and camaraderie, social integration and community development, as well as health, safety and fitness.

"The challenge is how to maintain pluralism and balance in sport, when it seems that winning – at all costs – is the norm, not just for elite, high-performance sport, but for those involved and managing youth and community sport.

"The health, safety and wellbeing issues are paramount to the integrity of sport, which can be extended to include efforts to combat sexism, homophobia, racism, violence and other forms of demeaning and discriminatory behaviours in sport.

"The standard of sporting excellence will need to be more than simply 'whatever it takes' to win. It will need to include measures of duty of care, as well as collective ownership of, and responsibility for organisational culture. Part of this culture change will no doubt require that all stakeholders have the courage to speak up when things don't seem right".
Related media
Official forum media releases:
The forum sparked significant conversation and interest in traditional and online media:
check the Twitter hashtag #sportsintegrity
Leading sports academic slams Essendon for 'win-at-all-costs' defiance in supplements investigation (Samantha Lane, Sports Writer for the Sydney Morning Herald)
Making young Australians good sports through fair play (Professor Hans Westerbeek, Dean, Victoria University for the Age)
Fahey blasts 'blackest day' announcement (Roger Vaughan's AAP report, appears on various sites, including ABC News and Mail Online UK)
Andrew Demetriou says the 'blackest day' press conference hurt the ASADA probe (Grant Baker, Herald Sun)
ASADA probe 'severely damaged' by public start, says Demetriou (Nick Bowen, AFL)
Demetriou takes aim at Dank (Roger Vaughan's AAP report, appears on various sites)
If cheating is 'normal' in cycling, how can we build integrity? (VU Associate Professor Craig Fry, The Conversation)
Sport Integrity: how best to achieve it (Dennis Hemphill & Elisabeth Wilson-Evered, Sports Business Insider)
Are we doing enough to promote integrity in sport? (Dennis Hemphill & Ramon Spaaij, The Conversation)
What happens if Essendon players are issued 'show cause' notices? (Bob Stewart, The Conversation)