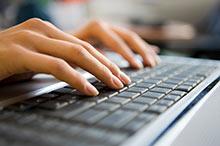 We invite you to take part in a short online survey designed to improve the Victoria University website.
The survey contains a series of questions/tasks about where you would expect to find specific information on the website.
We have tailored the survey so that you see tasks that are relevant to you - please choose the most appropriate link that describes your situation.
It should take approximately 10 minutes to complete and is anonymous.
Your input will help ensure that we can make it as easy as possible for you to find the information that you need.
---
The survey is now closed - we thank you for your interest in taking part and your input.
Look out for changes to the website in the coming months.