Overview
Embark on a rewarding career as an enrolled nurse with the opportunity to work anywhere in Australia with the Diploma of Nursing.
This course provides the foundational skills and knowledge to work as a nurse in the dynamic healthcare industry.
You'll learn to provide acute, preventative, curative and rehabilitative care under the direction of a registered nurse. You will gain hands-on learning experience in our ward simulation labs as well as clinical experience through 400 hours of practical placements.
You will become knowledgeable in topics including:
medication administration
anatomy and physiology
infection control
intravenous injections
general nursing.
This course equips you with the skills, competencies and knowledge to apply for registration as an Enrolled Nurse with the Australian Health Practitioner Registration Authority (AHPRA).
English-language skills declaration
You must be able to demonstrate that you meet the requirements of the Nursing and Midwifery Board of Australia's (NMBA) English language skills registration standard (see Admissions & pathways below). Please download and save a copy to your own computer to complete: Diploma of Nursing NMBA English-language skills student declaration.
Victoria University Polytechnic has the latest technology that allows you to practice your skills in a safe environment.
We have three fully functional nursing laboratories and an in-hospital simulation laboratory. You'll use cutting-edge interactive mannequin technology designed to simulate the treatment of patients in a real-world environment.
Our simulation labs also offer video recording from fixed cameras with live video streaming capabilities for greater interactive learning.
Everything you learn at Victoria University Polytechnic has direct links to the real world.
You will undertake 400 hours of clinical training across 4 separate placements during your course. Here you'll have the opportunity to experience the true nature and challenges of contemporary nursing practice. You will work and learn the spectrum of nursing specialities alongside expert clinicians. You'll enjoy a positive and supportive clinical learning environment.
Please note: placements may be in either a metropolitan or regional area.
Placement hours
Full time: 400 hours over ten weeks (40 hour shifts per week), five days per week.
Placements are typically held on Monday to Friday, however depending on the facility, placements can occur on the weekend.
VU's Learning Hubs are welcoming spaces where you can improve your study and employability skills.
Our students can attend Learning Hubs at one of five VU campuses.
We offer maths, writing, careers and English-language advice, and show you effective ways to study and manage your time.
Our programs include:
workshops
drop-in sessions
peer mentoring
maths and writing resources
resume and career guidance.
We also have accessibility support services and counselling services available for all students.
Full time: four days per week, Monday to Thursday, 9am – 4pm.
Please note that timetables are subject to change.
Need some advice?
Request a call back from one of our experienced Victoria University Polytechnic course advisers to get your questions answered.
Request a call back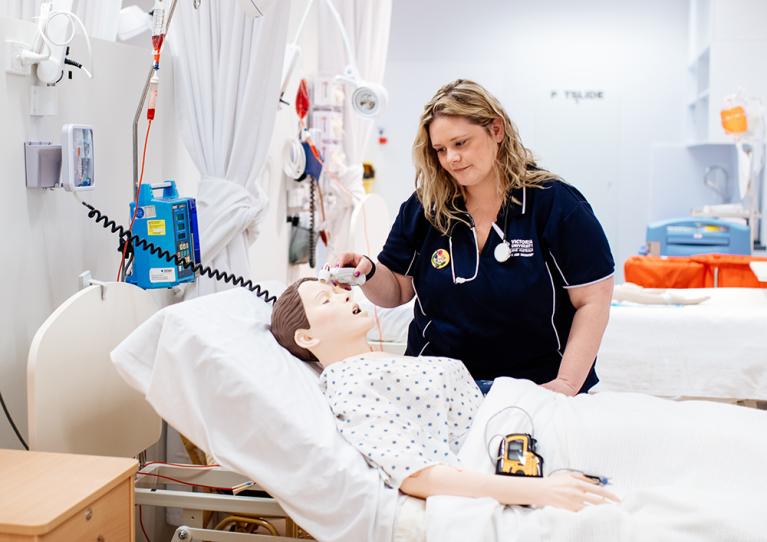 Gain hands-on learning experience in our ward simulation labs and clinical experience through 400 hours of practical placements.
Careers in nursing
With an increasing and ageing population, the nursing sector is anticipated to continue to grow. A Diploma of Nursing from Victoria University Polytechnic can help you launch a career in an industry where you'll make a positive contribution to the people you care for, and the wider community. This course provides a pathway to many exciting and rewarding career options within the healthcare industry.
On completion, you will have the skills, competencies and knowledge to apply for registration as an Enrolled Nurse with the Australian Health Practitioner Registration Authority (AHPRA). You could find work in a variety of fields from public or private hospitals to private nursing or community health care facilities.
Potential areas of work include:
acute care
rehabilitation
mental health
aged care
palliative care
community care
operating theatres
general practice
home nursing
surgical care
pathology
paediatric care
maternity.
Graduates of Victoria University Polytechnic and Victoria University's nursing courses are known in the industry for their extensive practical experience before they finish their studies.
Course structure
To be awarded HLT54115 Diploma of Nursing, a student must successfully complete a total of twenty-five (25) units of competency, consisting of:
twenty (20) core units, and;

five (5) elective units, of which:

at least three (3) units from the electives listed within the HLT54115 Diploma of Nursing qualification;

up to two (2) units from any endorsed training package or accredited course – these units must be relevant to the work outcome.
All electives chosen must contribute to a valid, industry-supported vocational outcome as well as be approved by the Polytechnic.
Recognition of Prior Learning and/or Credit Transfers
Previous completion of units at the Polytechnic or any other Registered Training Organisation and/or previous attainment of skills and knowledge may be credited towards this course. Units must satisfy the completion rules of the qualification and be assessed as appropriate by the Polytechnic.
This qualification reflects the role of an enrolled nurse working under supervision of a registered nurse. This qualification covers the application of skills and knowledge required to provide nursing care for people across the health sector. A lifespan approach should underpin this qualification with relevant competencies that relate to the different stages of life identified within the units.
A graduate from a Diploma of Nursing program approved by the Nursing and Midwifery Board of Australia (NMBA) is able to apply for registration with the NMBA as an enrolled nurse. Further information on registration is available at www.nursingmidwiferyboard.gov.au.
What's a unit?
A unit or 'subject' is the actual class you'll attend in the process of completing a course.
Most courses have a mixture of compulsory 'core' units that you need to take and optional elective units that you can choose to take based on your area of interest, expertise or experience.
Fees & scholarships
Fee type for this course: VET
Fee type definitions
The amount you pay for your course depends on whether you're offered a government subsidised place or a full-fee paying place.
Students who enrol in a:
Government subsidised place pay a VET tuition fee and may be required to pay a Student Services and Amenities Fee and course materials contribution. This training is delivered with Victorian and Commonwealth Government funding.
Full-fee paying place pay the full-fee tuition rate (which includes Student Services and Amenities Fee and any material fees).
Find out:
Scholarships & assistance
Apply for a scholarship to help with your study costs.
We can help with fee assistance and advice.
Admission & pathways
Meeting the minimum admission requirements does not guarantee you entry into this course. Some courses receive more applications than the number of places available. In this situation we will also assess your education, work and other relevant experience.
If you do not meet the minimum requirements you may be eligible for one of our special admission programs. We also encourage you to explore our study pathways to help you reach your goal.
Find out more about how to apply for our courses, and our commitment to admissions transparency.
Entry requirements





All applicants must be at least 18 years of age or over by the time of commencement date of the program.






All applicants must complete a Literacy and Numeracy Assessment (LLN). VU Polytechnic use the Basic Key Skills Builder (BKSB) tool for this assessment and applicants must achieve level four (4) in both literacy and numeracy. Applicants who complete the ACSF assessment tool must achieve a minimum exit level three (3) for both Literacy and Numeracy.






All applicants will be required to undertake an interview and complete a language and calculations test.
Applicants must also be able to demonstrate that they meet the requirements of the Nursing and Midwifery Board of Australia's (NMBA) English language skills registration standard. Proof of this English language competency must be provided and can be achieved via one (1) of the following pathways:
1. Primary Language Pathway
The applicant's primary language is English, and they have undertaken and satisfactorily completed at least six (6) years of primary and secondary education, including at least two (2) years between Years 7 and 12. Countries include Australia, New Zealand, United Kingdom, Republic of Ireland, Canada, South Africa and the United States of America.
Applicants will be required to complete a declaration.
2. English Language Test Pathway
Applicants must be able to demonstrate that they have achieved the required minimum scores in one of the approved English language tests as specified in the NMBA's English language skills registration standard prior to acceptance of offer.
IELTS the IELTS (academic module) with a minimum overall score of 7 and a minimum score of 7 in each of the four components (listening, reading, writing and speaking).
OET with a minimum score of B in each of the four components (listening, reading, writing and speaking).
PTE Academic with a minimum overall score of 65 and a minimum score of 65 in each of the four communicative skills (listening, reading, writing and speaking).
TOEFL iBT with a minimum total score of 94 and the following minimum score in each section of the test 24 for listening, 24 for reading, 27 for writing, and 23 for speaking.
More information can be found by visiting: https://www.nursingmidwiferyboard.gov.au/Registration-Standards/English-language-skills.aspx
Placement requirements:
In addition to the above requirements, all students must provide the following documentation prior to placement.





A current Working with Children Check (WWCC)






A satisfactory Police Record check



A Health Status check (immunisations status) are required for clinical placement purposes.
There are many ways you can start your education journey at VU. Pathways offer an easy transition between courses at different levels, so that you can start with a certificate and progress right through to postgraduate study.
Find out more about pathways and credits.
You may be able to complete your qualification sooner through formal recognition of your existing skills. This is known as Recognition of Prior Learning (RPL).
To receive RPL, we assess your previous work, education and life experiences against recognised qualifications. Applications for RPL can be made prior to enrolling.
Call us on 1300 TAFE VP (1300 823 387) to discuss RPL options with the course manager.
On completion of this course you will be guaranteed entry into the following degree and in some cases receive credit for your study:
You will be credited for up to 96 credit points of study.
Find out more about our study pathways to VU
How to apply
Prior to enrolment, all applicants will be required to complete a literacy and numeracy assessment to assist with determining eligibility and to identify learning support needs.
Before you apply
Before applying, you should consider whether you also want to apply for:
Special admission programs: Depending on your life circumstances you may be eligible for special consideration of your application.
Advanced standing: If you have significant experience or studies elsewhere you may be eligible for credit for some units of your course and not have to undertake them.
Find out more about applying for our courses.
Apply direct to VU
Apply direct to VU using our admission centre, submit applications for one or more courses, track and save your progress and upload additional information.
---
Already a VU student?
If you are already a VU student, apply direct to VU using our Admissions centre to transfer into this course. Remember it's best to be accepted into your new course before withdrawing from your current one.
After you apply
It's important to check for emails from us (which may go to your spam/junk folder).
Complete any requests for information by the given dates, otherwise your application may not be considered
Enquire now
Please fill out the form below, and we'll get back to you shortly.
Information marked with an asterisk "
*
" is required.
Please note that if changes to this course occur, VU will notify students as soon as possible.
At Victoria University, we aim to display accurate and complete course information online. However, we are unable to guarantee that every course change is currently displayed. You may contact the University directly on +61 3 9919 6100 to confirm the most up-to-date course fees, pathways and credit transfer, recognition of prior learning, admission and enrolment procedures, examinations and services available to our students.