Overview
Begin training for a career in hospitality while you complete your secondary school studies, with the Certificate II in Hospitality SIT20316.
Delivered exclusively through Victoria University Polytechnic's VET in Schools program, this introductory course equips you with basic hospitality knowledge and skills. You'll learn how to:
process financial transactions
serve food and beverage
prepare and serve espresso coffee
use hygienic practices for food safety
participate in safe work practices.
This course can be used as a pathway for entry into the Certificate III in Hospitality SIT30616.
Please note: this qualification is not open for general enrolments. Secondary schools looking to partner with Victoria University Polytechnic should contact the VET Delivered to Secondary Students team.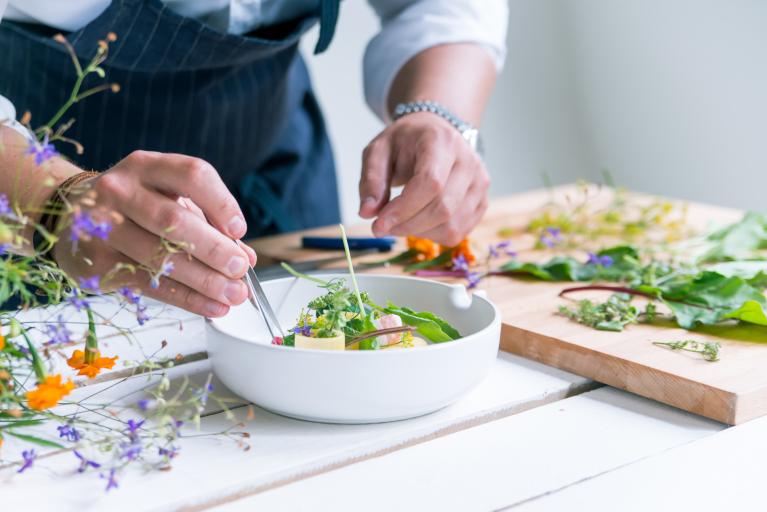 School for the Visitor Economy
This course is part of VU's School for the Visitor Economy - a new cross-university school providing qualified graduates to Victoria's rapidly expanding tourism and hospitality sectors.
Careers
Completion of the course will enable you to seek career opportunities including:
bar attendant
cafe attendant
catering assistant
food and beverage attendant
front-office assistant
porter.
You may also choose to pathway into the Certificate III in Hospitality SIT30616.
Course structure
The course structure comprises the following core and elective units. These electives have been selected based on industry needs, graduate pathways and/or student and teacher feedback.
To be awarded the SIT20316 Certificate II in Hospitality, a student must successfully complete a total of twelve (12) units of competency, comprising of:
six (6) core units, and;
six (6) elective units, of which:
one (1) elective unit must be selected from Group A;
three (3) elective units must be selected from Group B, and;
two (2) elective units may be selected from Group B, elsewhere in the SIT Training Package, or any other current training package or accredited course. 
Elective units must be relevant to the work environment and the qualification, maintain the integrity of the AQF alignment and contribute to a valid, industry-supported vocational outcome.
VU Polytechnic delivers the electives listed in the 'course structure and units' below. These electives have been selected based on industry needs, graduate pathways and/or student and teacher feedback. Alternative suitable electives are only available via Recognition of Prior Learning (RPL) and Credit Transfer (CT).
Recognition of Prior Learning and/or Credit Transfers
Previous completion of units at the Polytechnic or any other Registered Training Organisation and/or previous attainment of skills and knowledge may be credited towards this course. Units must satisfy the completion rules of the qualification and be assessed as appropriate by the Polytechnic.
This qualification reflects the role of individuals who have a defined and limited range of hospitality operational skills and basic industry knowledge. They are involved in mainly routine and repetitive tasks and work under direct supervision.
Fees & scholarships
Fee type definitions
The amount you pay for your course depends on whether you're offered a government subsidised place or a full fee-paying place.
Students who enrol in a:
government subsidised place pay subsidised tuition fees (the government contributes the rest), and may be required to pay a Student Services and Amenities Fee along with any material fees
full fee-paying place pay the full fee tuition rate (which includes Student Services and Amenities Fee and any material fees).
Calculate your VET course fees.
Find out more about:
Scholarships & assistance
Apply for a scholarship to help with your study costs.
We can help with fee assistance and advice.
Admission & pathways
Meeting the minimum admission requirements does not guarantee you entry into this course. Some courses receive more applications than the number of places available. In this situation we will also assess your education, work and other relevant experience.
If you do not meet the minimum requirements you may be eligible for one of our special admission programs.
Find out more about how to apply for our courses, and our commitment to admissions transparency.
Entry requirements
As part of the application process, applicants must complete a Pre-training Review (PTR) and undertake a literacy and numeracy (LN) assessment to determine suitability for admission.
There are many ways you can start your education journey at VU. Pathways offer an easy transition between courses at different levels, so that you can start with a certificate and progress right through to postgraduate study.
Find out more about pathways and credits.
Use our credit calculator to find out how much credit you could get towards your course, based on your previous study.
You may be able to complete your qualification sooner through formal recognition of your existing skills. This is known as Recognition of Prior Learning (RPL).
To receive RPL, we assess your previous work, education and life experiences against recognised qualifications. Applications for RPL can be made prior to enrolling.
Call us on 1300 TAFE VP (1300 823 387) to discuss RPL options with the course manager.
How to apply
Prior to enrolment, all applicants will be required to complete a literacy and numeracy assessment to assist with determining eligibility and to identify learning support needs.
Enquire now – TAFE
Please fill out the form below, and we'll get back to you shortly.
Information marked with an asterisk "
*
" is required.
Please note that if changes to this course occur, VU will notify students as soon as possible.
At Victoria University, we aim to display accurate and complete course information online. However, we are unable to guarantee that every course change is currently displayed. You may contact the University directly on +61 3 9919 6100 to confirm the most up-to-date course fees, pathways and credit transfer, recognition of prior learning, admission and enrolment procedures, examinations and services available to our students.