Kashif Bouns: Breaking new ground
"When you come to a new country, that's a big challenge in itself." Kashif left Pakistan in search for a better life for himself and found a greater purpose in improving lives for the thousands who call the west of Melbourne home.
Background
Qualification: Master of Business Administration, 2016
Job: General Manager, Community Foundation at Western Bulldogs
As the General Manager of the Western Bulldogs Community Foundation, Kashif Bouns has risen above many challenges.
He aims to deliver a sustainable and relevant community service to help propel the west into a bright future. This passion was not why he left Pakistan, but it is what cemented his future in Australia.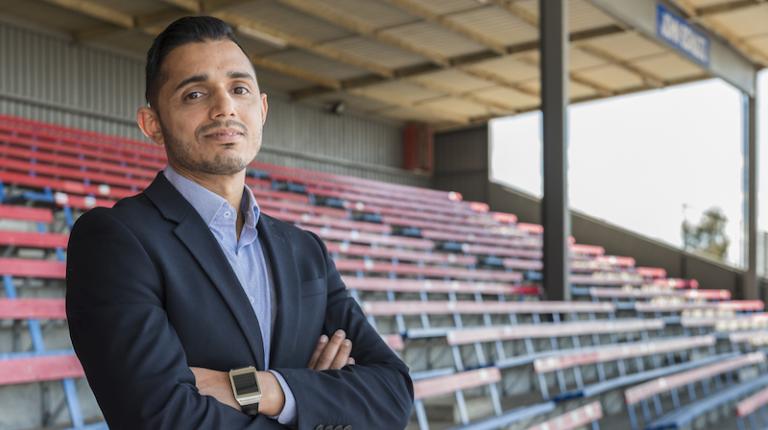 Early experience as an international student
After arriving in Australia to study, Kashif began offering his spare time to those in need. From student union BBQ's to fundraising for relief after Black Saturday, Kashif volunteered where he could help.
"Then the narrative in Australia started changing and challenges arose for immigrants and the Muslim community." This pattern ran parallel with his own experiences, "first I was looking at myself as an international student, then a Pakistani, then a Muslim. So this is where I focused." This inspired Kashif to form the Pakistani Student Association Australia, which is now 40,000 members strong.
Like many students, Kashif struggled to find a graduate position, "it was 2008, people were losing jobs and I was on a student visa." After months of job hunting he secured a full-time position as a junior accountant. The lifestyle of a nine-to-five job allowed Kashif the spare time to continue volunteering within his community.
Success and the community
Kashif's security as an accountant was comforting, however, he questioned the long term satisfaction. Supporting his community was his passion and the prospect of turning this into a career became a real possibility when he stumbled upon a role at Cricket Victoria and was successful as the part-time GLoBALL Coordinator.
Kashif knew he had made the right choice. His role introducing new migrants to Australia's sporting culture encouraged their integration into the wider community and Kashif proudly nourished this development. As a partner in the GloBALL initiative, Essendon Football Club gave Kashif the opportunity to fill a full-time position. "I did not know much about football. I just knew everyone was mad about it."
Kashif was eager to learn and applied on-the-job learning to succeed in his new role. But he was determined to take his skills even further.
"I was always going to do my masters." As a new permanent citizen and with his career progressing Kashif knew it was the right time to further his education. "The biggest things for me were: accessibility, ranking and reputation. But study is a lot more than handing in assignments. It's about the people you meet and what you learn from your teachers." An education that translated into his work was priceless, "and VU offered that.
Further education spurred Kashif's growth and his determination was so palpable that AFL Victoria approached him for his next role. Kashif's career continued to thrive within the AFL industry and he now works as the General Manager for the Western Bulldogs Community Foundation.
Kashif is influencing the community on a broad scale, inspiring change as the Western Bulldogs Community Foundation implements programs to promote diversity and inclusion, community health and wellbeing, youth leadership and more. Kashif recognises that "there are still not many people in the AFL industry who come from my background in terms of experience and cultural background." But it is his hard work, ethical approach, management skills and determination that have contributed to him successfully breaking new ground.