When you study business at VU, you'll be provided with access to an outstanding number of opportunities to empower your career development and help you graduate work ready.
Our extensive network of local and international partnerships will enable you to take advantage of our distinguishing features such as:
learning from top scholars and applying theory into practice
industry-relevant curriculum
the ability to advance your current level of study
mentorship opportunities
the capacity to grow your network by studying with students from China, Africa, India, Europe and South America.
a campus located in the heart of the CBD and
a small and tight-knit community.
In 'Victoria University Business School':
Discipline guide
For an overview of our courses, research strengths and facilities, download the Business Discipline Guide.
Our facilities
The Victoria University Business School has a range of industry-standard facilities, including a specialised business library, contemporary board rooms and shared spaces. Our City Convention Centre located on Level 12 boasts spectacular city and river views and offers a venue for business and social functions.
Student placements & internships
If your dream career is in the business world, we can help you achieve it. Our business students gain practical, real-world knowledge and skills with the aid of strong industry links, specialist professional development units, and over 150 workplace learning programs in cutting-edge companies.
One of our greatest strengths as a university is our links with industry. We are one of the most industry connected universities in Australia with over 4,000 industry connections university-wide. Our students are exposed to placement opportunities at the Australian Centre for Financial Studies, Linfox, Victorian Tourism, Victoria Transport Association, Crown Melbourne, Tourism Victoria and the Western Bulldogs Football Club every year.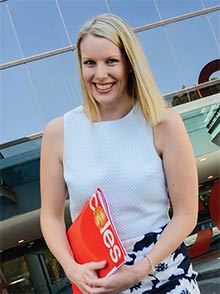 Our co-operative education program offers a year of paid, full-time employment towards the end of a business degree, with a preparation program during the second year of study to ensure our students are ready to enter the workplace. Students also have the opportunity to engage in a work integrated learning program. This provides students with industry-based experiences such as relevant project work, part-time employment, a holiday job or even voluntary work while studying.
'During my final year of study I completed a 10-month internship at Coles, working with the Supply Chain team. In this position I found the skills taught to me at Victoria University vital in achieving success.'
Sally Anne Young – Most Employable Business Student, GradConnection Top100 Awards
Bachelor of Business – Supply Chain and Logistics Management
Accreditations
Our courses are accredited by:
Chartered Institute of Logistics and Transport Australia (CILTA)
Australian Marketing Institute (AMI)
CPA Australia
Institute of Chartered Accountants
Australian Human Resource Management (AHRI).
Experts
Our students learn from industry-expert teaching staff and have access to high profile adjunct professors including:
Alan Kohler, financial journalist
Ian James, Managing Director of Mushroom Music.
Contact us
Victoria University Business School
City Flinders Campus
Staff in the Victoria University Business School
Phone: +61 3 9919 6100 or 1300 VICUNI (1300 842 864)
ASKVU Find answers and ask questions