The College of Sport and Exercise Science has a rich and vibrant research culture that is internationally recognised with its large group of academic research scholars, postdoctoral fellows, postgraduate and honours students.
Our ground-breaking research, world-class facilities and partnerships with top sporting clubs have propelled us to number 12 in the world for sport science (Shanghai Rankings 2018).
Areas of research
All of the College's research takes place in the Institute for Health & Sport.
The College conducts research in the fields of:
sport science
active living across the lifespan
active living & public health
clinical exercise science
muscle & exercise metabolism
sport in society.
In 2015, Victoria University received a Commonwealth Government ERA rating of 5. This is the highest possible ranking and places us well above world standard in human movement and sports science.
Research students
Research students are affiliated with the Institute for Health & Sport. Research degree options include all aspects of sport and recreation, exercise science, and physical education.
We provide expert research supervision and welcome enquiries from prospective research students interested in developing new projects. Our innovative approaches, and the breadth and depth of research specialisation, help create an attractive range of postgraduate research options in fields of sport, exercise or active living as part of Masters and Doctoral programs.
For further information about becoming a research student or guidance about possible project areas and supervisors, please contact Associate Professor Andrew Stewart.
Email: andrew.stewart@vu.edu.au
Phone: +61 3 9919 5200
Our researchers
The College's international expertise is recognised through our staff engagement in innovative research projects, teaching programs and industry and community services.
Our staff may provide their expertise as board members, coaches, advisors, editors, contractors, program and conference organisers and invited guest speakers.
Our researchers on the Conversation website
Our staff have been involved in some topical conversations around sport, exercise and topics that are part of their research interests.
The Conversation is an independent source of news and views, sourced from the academic and research community and delivered direct to the public.
Editors from the Conversation work with universities, CSIRO and research institute experts to unlock knowledge for use by the wider public.
View what some of our staff have been saying on the Conversation:
Sample research projects
Our research projects often lead to enhanced performance. Here are just a few of them.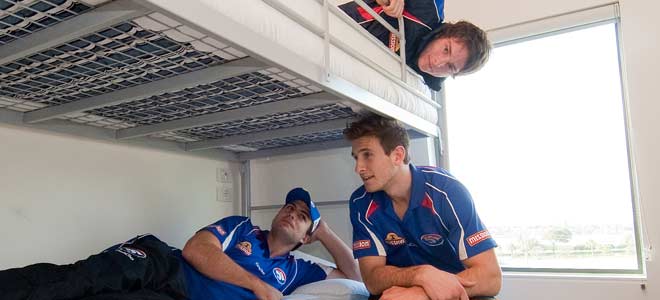 Effects of simulated high altitude living
The low-oxygen 'altitude hotel' at Footscray Park Campus offers athletes and medical researchers the opportunity to experience the effects of simulated high altitude living.
Our state-of the-art Altitude Hotel is one of only two facilities in Australia providing simulated high altitude living.
Supplement use in sport
The embedded nature of supplement use in all levels of sport makes knowing where to draw the line a potential hazard for athletes, according to experts.
Professor Bob Stewart's research found that 93% of the 140 research participants in a recent study showed had regularly used supplements in the past 12 months.
Torxtar computerised device for cyclists
VU researchers developed the Torxtar, a computerised device now offering an edge to Australia's elite cyclists.
Dr David Rouffet's research led to performance improvements of 1% for Australia's top cyclists, including Anna Meares and Shane Perkins, who won sprint gold and sprint bronze respectively at the 2012 London Olympic Games.
Electronic movement-tracking in football
The Institute for Health & Sport (IHES) is currently working with international football governing body FIFA to establish standards for electronic movement-tracking devices.
It aims to help FIFA set clear guidelines on using movement-tracking devices during matches.
IHES was chosen by FIFA to conduct the research project (the world's largest to date), based on our reputation for research excellence, interdisciplinary approach, and high-quality analysis in high-performance sport.
VU's Associate Professor Rob Aughey is leading the project.