Thursday 1 September 2016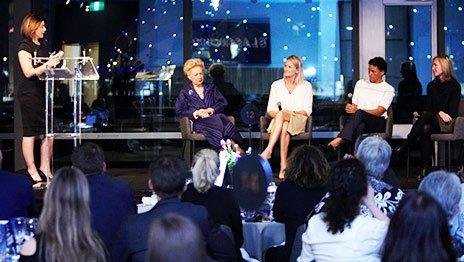 Dr Susan Alberti AC, the focus of this Monday's episode of ABC's Australian Story, continues to champion the rise of women's sport, most recently at Victoria University's 2016 Sports Dinner.
While thousands of Australians tuned into ABC's Australian Story on Monday night the woman at the centre of the episode, Dr Susan Alberti AC, was busy elsewhere.
Dr Alberti has been a tireless supporter of women's sport, most notably women's AFL.
She was featured in this week's episode of the Australian Story titled 'A League of Their Own' alongside marquee Collingwood player Moana Hope.The episode focused on Susan's leadership role helping women in AFL like Moana.
At the Sports Dinner Dr Alberti's speech explored the excellence and appeal of women's sport finally getting the recognition it deserves.
In conversation with journalist Kelli Underwood, Alberti explored the rise of women's sport outlining the impact on young female athletes and described what it really means for the media and for the business of sport.
Kelli and Susan were joined by other leading female athletes, administrators and journalists for a broad ranging discussion of the issues and implications for the future of women's sport.
Susan's commitment to women's sport includes the next generation with a recent gift of $1million to Victoria University's Creating Opportunity Fund to support scholarships. Her gift will ensure more women in sport can undertake their education and become active members of their chosen sporting fields.
Talking about Susan's commitment to women's sport, Moana Hope told the ABC:
"Susan's been funding women's football since way back, which is probably one of the biggest reasons we're in the position that we are right now."
More about 'A League of Their Own'
ABC's Australian Story, 'A League of Their Own', introduced by ABC's Beverley O'Connor, follows the journey towards a national AFL women's league.
Interviewee Gillon McLachlan, CEO of the AFL, described Alberti as a driving force behind the revolution set to launch in February.
A League of Their Own aired on Australian Story on ABC TV on Monday 29 August 2016. Watch the episode on ABC iview or on ABC website.
Also listen to ABC News Radio interview with Dr Alberti.