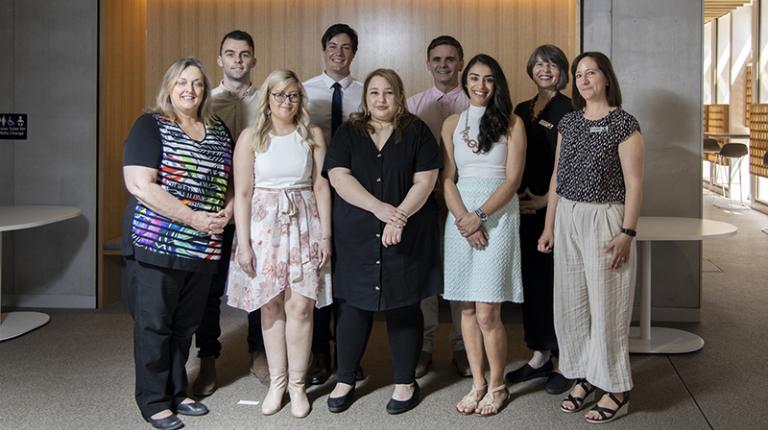 Victoria University staff and students are working with the Western Bulldogs Community Foundation (WBCF) to help build strong and vibrant communities in Victoria's west.
The WBCF is the community arm of the Western Bulldogs AFL team.
It was established to engage a wide range of participants in programs and services related to health and wellbeing, diversity and social inclusion, youth leadership and development, and community advocacy.
VU student researchers work in partnership with the WBCF to professionally and independently evaluate some of these programs. They provide an evidence base that proves the Foundation is making profound impacts across the region.
In addition to the evaluations, hundreds of VU students from a range of disciplines such as psychology, exercise science, social work, and community development participate in meaningful work placements in WBCF programs.
This week, VU staff and students joined WBCF staff to reflect on the growing role of the Foundation in creating more unified and connected communities in Western Victoria. This region has nearly 880,000 residents, and is one of the most culturally diverse areas in Australia.
Partnership provides students with meaningful opportunities
Professor Corinne Reid, VU's Deputy Vice Chancellor of Research, said partnerships like the VU-WBCF association are critical in demonstrating to students the rich opportunities they have to contribute to the wider community.
"VU is one of the few universities with a moral purpose. Some students think they need to wait until they graduate to begin making community contributions, but in fact they can start making that commitment to contribute the minute they enrol."
PhD candidate Jeremy Vassallo described his research evaluating the Sons of the West program, which is designed to help men learn about their health and well-being. The free 10-week program has been undeniably successful, improving the lives of more than 1200 men in 25 locations. A Daughters of the West program for women was launched in 2017 as a result of this success.
Other VU presenters and researchers included:
Professor Jenny Sharples, Head of Program, Clinical Services (Psychology)
Dr Kim Shearson, Clinical Services (Psychology)
Dr Laurie Chapin, Lecturer, Psychology
Samuel Keast, Doctoral Industry Project Placement, GOAL mentoring project
Gemma Quartarella, Youth Leadership evaluations
Ridhima Tandon and Colby Bryce, Provisional Psychologists