VU students help small businesses solve tech challenges over the summer break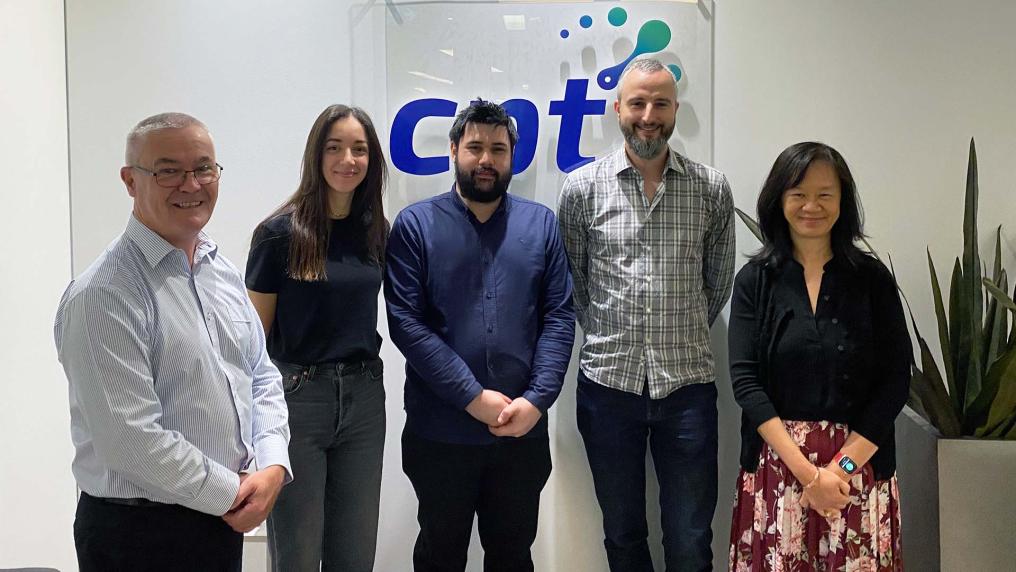 This summer, 64 Victoria University (VU) students helped local businesses find digital solutions through the SummerTech LIVE program.
Monday 13 March 2023
This summer, 64 Victoria University (VU) students took their digital skills into the real world – creating solutions for local businesses through the Victorian Government's SummerTech LIVE program.
The SummerTech LIVE program, which is delivered by the Victorian Chamber of Commerce and Industry (VCCI) on behalf of the Victorian Government, bridges the digital-skills gap for small to medium Victorian businesses by matching them with emerging IT talent to tackle a summer project.
"For many small-to-medium-sized businesses, it is difficult to find the time and resources to implement digital solutions and keep on top of the day-to-day pressures of running a business," says Kerril Williams, Program Manager at VCCI.
The SummerTech LIVE program helps Victorian businesses solve their technology-related problems, and gives students an opportunity to gain work-ready skills and kickstart their career.
Building on-the-job skills to launch an IT career
Students and recent graduates taking part in the program receive $5000 and spend 10 to 12 weeks immersed in the workplace, applying their skills to a real-world challenge.
"For the students, it's an opportunity to tackle a challenging technical problem whilst doing meaningful paid work experience to develop creative thinking, problem-solving abilities and job-ready skills," Kerril says.
VU has been long-time partner of the SummerTech LIVE program and is committed to providing practical learning and industry opportunities to students, as well as support to local businesses.
Ameena's story – creating a stronger e-commerce site
Ameena Altaf, who recently graduated from VU Polytechnic's Certificate IV in Cyber Security 22603VIC, spent her summer break working with Beaton's Store – a family-owned clothing store located in the historic gold-mining-era town of Maldon in regional Victoria.
As a small business that provides the finest in country-style clothing across Australia and around the world, the owners wanted help to boost their digital presence and optimise their e-commerce website. 
"There has been a lot of room to explore and learn," Ameena says. "I have been performing analysis of the e-commerce store and implementing strategies to enhance its look and functionality.
"I am also making recommendations for cyber hygiene practices, creating training documents and looking into strategies to drive more traffic to the website."
Working on this project has also given Ameena valuable experience in project leadership, negotiating, critical thinking and working directly with clients.
Mary & Colin's story – developing a data analysis tool
Mary Yazbek, a Master of Applied Information Technology student, and Colin Wolfe, who's studying a Bachelor of Information Technology, took on a software project with CPT Global, a Melbourne-based IT consulting services firm.
"Our project involves designing a tool that can read the client's mainframe data, extract important information, and generate clear and comprehensible reports and charts," Mary explains.
"Along the way, I gained valuable experience coding with Microsoft VBA (Visual Basic for Applications), developing new skills I can leverage for future projects."
Creating this tool has also given Mary and Colin valuable exposure to project management and workflow processes in the IT industry.
"I've learned about daily work meetings and how projects are worked on using the agile method," Colin says. "It's a great first experience working in a corporate office."
Marty Bolger, Senior Practice Lead at CPT Global, says the project has resulted in a successful solution prototype. 
"We encouraged Colin and Mary to experiment to solve given problems, rather than us dictating how it should be done, which they did very well," he says.
"For us, the program perfectly aligned to our other mentoring initiatives – to recruit graduates into our technology practices, enhance our ranks and provide career pathways."
Liz's story – making cyber security recommendations
Flinders + Co is a boutique meat distribution company based in Port Melbourne that wanted support with a cyber security audit.
For Liz Brice, this was an opportunity to apply the skills she gained in her Certificate IV in Cyber Security 22603VIC to a real-world situation – and help her transition from community health research to a new career in tech.
"Along with another student, I've been working on the audit and making recommendations for improved cyber security of their IT systems," she says.
"I've learned a lot, and anything that I can do to demonstrate my enthusiasm for the industry and to practice the skills I gained in the Certificate IV, I hope will increase my chances of getting a job in the industry."
---
The SummerTech LIVE program will reopen to students and businesses later this year.