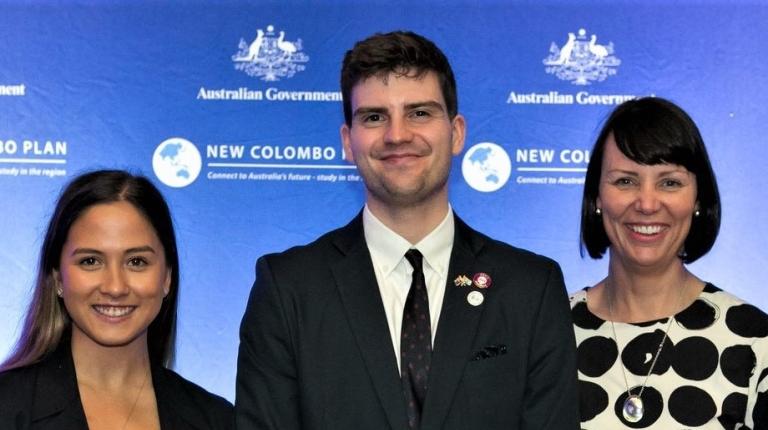 Victoria University student Scott Fordyce has been awarded a New Colombo Plan (NCP) Scholarship by the Australian Government.
The scholarship will enable Scott to travel to Fiji to study at the University of the South Pacific for one semester to complete a minor in International Development. Scott is studying a Bachelor of Community Development at VU; he will also study Fijian as a language and undertake an internship with the Partners in Community Development Fiji.
It will be Scott's first trip overseas. He is also the first in his family to go to university; in 2020, about a quarter of NCP Scholars are the first in their family to have studied at university. Over half are women and about a third are from regional and rural areas.
The NCP Scholarship Program aims to increase knowledge of the Indo-Pacific by supporting Australian undergraduates to study and undertake internships in the Asia Pacific region.
The 125 scholarship recipients for 2020 were announced by the Minister for Foreign Affairs and Women, Senator the Hon. Marise Payne, at a recent ceremony in Canberra. Senator Payne also announced 51 NCP alumni ambassadors, including VU's Alice Growden.
Alice travelled to Indonesia with the support of a mobility grant from the NCP Mobility Program; she hopes to spread awareness about the NCP programs among VU students.
"The NCP is a fantastic government Initiative. It fosters strong partnerships throughout our region and allows students to build relationships and networks.
"I hope to give the NCP a loud presence at our open days, O-Weeks and on social media. During high school visits as a Senior Student Ambassador, I hope to increase awareness and give students a better understanding of university life and the opportunities available through the NCP."
Internal applications for the next round of NCP Scholarship Program will open in March. Alice recommends that applicants seek advice from VU's Victoria Abroad team.
"The scholarships are very competitive. It is important to take care when applying and get someone to review your application. If you are considering studying abroad in the Asia Pacific, ensure that you have a meeting with Victoria Abroad to plan out your stay and your units. Planning is everything."
Scott Fordyce is very appreciative of the support he received. "VU has great services for students applying for the NCP Scholarship Program. Victoria Abroad coordinator Christine Kan was amazing in her support through the whole process. The NCP is such an amazing opportunity and they are looking for applicants from diverse backgrounds across many fields, so I encourage all VU students to apply.
"Last year I was completing a Cert IV in Community Services and before that I was working full‑time as a gas pipeline technician. I never thought I'd be in the running for a scholarship like this."
Over 60,000 awards have been made to students as part of NCP Scholarships and Mobility Programs since 2014.