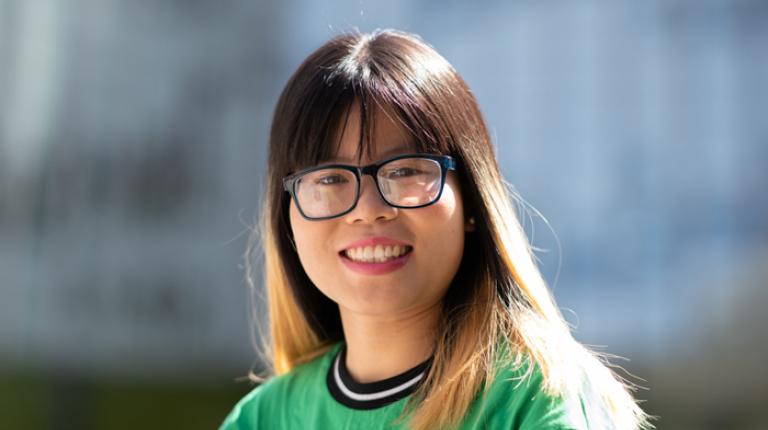 VU's Olena Nguyen has won the CISA Best Undergraduate International Student Award.
The Bachelor of Social Work student was presented with the award recently at a ceremony in Perth. The Council of International Students Australia (CISA) Awards celebrate the leadership and commitment of international students who help their peers to thrive and succeed.
Olena says the award was the result of three years of hard work, dedication and sacrifice.
"I burst into tears," says Olena.
This award means a lot to me. I want to give this award to my parents and extended family in Vietnam for what they have done for me. I am grateful for their decision to send me to Australia to study. It has been a challenging journey for me but it has also been rewarding.
"I have changed, in a positive way. I'm more outgoing, more independent, more resilient and more professional. Pushing myself out of the comfort zone, making the most out of the opportunities that Melbourne has to offer."
Olena is Partnerships Director at the Australian Federation of International Students and has also served as a Study Melbourne ambassador, vice president of the Vietnamese Alumni and Students Community in Victoria, youth leader at the Centre for Multicultural Youth and a young leader at Melbourne City Mission. She was also a finalist in the 2018 Victorian International Education Awards.
She says she is passionate about international students and aims to help enrich their experience while also addressing some of the challenges they face ranging from the language barrier and cultural misunderstandings to financial hardship and mental health problems.
"Getting support from peers is vital for international students, to help them adapt to a new environment, a new culture and to make progress in academic studies as well as their personal and professional life. International students generally ask for help from people who are their friends – those who come from the same countries, speak the same language and experience similar issues."
Olena encourages other students to take part in community activities. "It is a good way to push yourself out of the comfort zone, to learn and grow, to gain hands-on skills and experiences which might be valuable for your future career and professional life. One saying I really like is 'We become successful by what we get, but we become happy by what we give'."