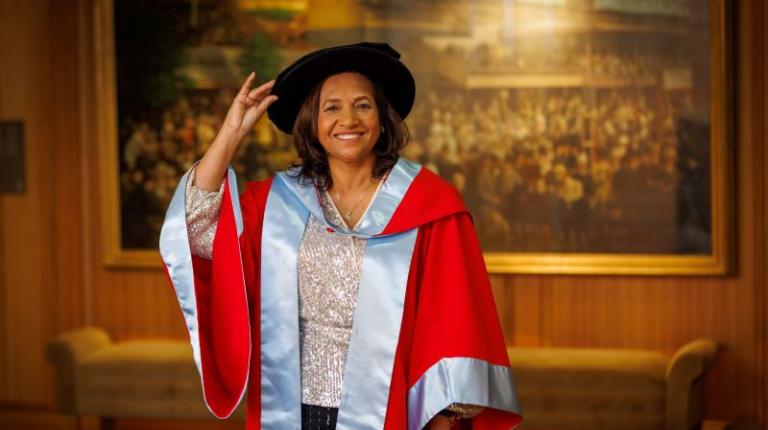 Victoria University (VU) today awarded former Timor-Leste Minister for Education Dulce de Jesus Soares with an Honorary Doctorate for her significant contributions to the wellbeing of children, women, families and communities of her young nation, and her role in a long and successful collaboration with VU.
Dr Soares has been a strong and determined advocate for education access and reform in Timor-Leste, with an extensive career in politics, teaching and international development.
As the country's former Vice-Minister of Preschool and Basic Education, former Minister for Education, Youth and Sport – and now education advisor to the President – Dr Soares has played a major role in planning and implementing equal access and quality of education to all children in Timor-Leste, especially those in rural areas.
Started career with education at VU
She started her career teaching English, gaining extensive experience in regional development and planning after receiving a Bachelor of Education from Udayana University in Bali, and a Masters in International Community Development from Victoria University.
She worked as a national program officer for UNICEF, where she collaborated with international partners to develop laws and policies to guarantee children's rights, including establishing a National Commission of Children's Rights.
Dr Soares has led reforms of both preschool and primary school curricula, including producing local textbooks, advocating for mother-tongue education, and developing policies for improved access and inclusion.
With more than 20 years of academic collaborations and student exchanges between VU and Timor-Leste – including VU training for about 180 Timor-Leste students since 2003 – Dr Soares has actively engaged with VU to support sustainable development for her country's future through collaboration and education.
Her progressive agenda has seen Timor-Leste make great improvements in teacher mentoring, and in delivering its commitment to the United Nations Sustainable Development Goals.