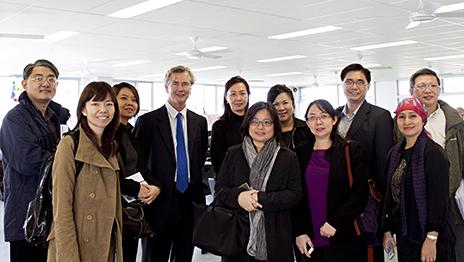 A delegation from Singapore's Teachers' Academy for the Arts have joined The Victoria Institute for a week long (19 - 23 May, 2014) professional learning study tour, in Melbourne.
The Senior Teacher Programme is an initiative by the Ministry of Education, Singapore to expose instructional leaders in schools to new approaches to teaching the arts across different cultural contexts.
The Victoria Institute's multi-disciplinary and innovative approaches to research, encourages teachers to reflect on their own practice through a number of lenses.
Professor Roger Slee, Director of The Victoria Institute says the program is a great example of how the institute's researchers' expertise can be utilised to improve educators practice.
'Creativity in education is critical to equip students for new times in a less than stable labour market', says Roger.

'The Victoria Institute's research capability connects us with a broad network of international researchers and an expansive knowledge-base to assist educators in their professional development.

'Initiatives such as the Singapore Senior Teacher Programme expose educators to new opportunities for professional collaboration and learning. Teachers are then able to critically reflect on their practice and adapt their pedagogy and curriculum, accordingly.

'This study tour is a unique opportunity to explore international partnerships and collaboration. In the future, we would like to establish a transnational community, aiding the exchange of best practice methodology between countries.'
Over the course of this coming week, senior teachers from the program will have the chance to visit several schools, policy makers, creative industries and professional artists.
This visit is the second phase of the Senior Teacher Programme. In February, a team from The Victoria Institute including Claire Brown, Associate Director of The Victoria Institute and Micheal McCarthy from the Western Australian Performing Arts Academy and Associate Member of The Victoria Institute hosted a series of workshops for the group, in Singapore.
The sessions focused on curriculum design, arts centred pedagogies, critical and creative thinking as well as teachers in leadership positions.
Roger believes this study tour is a crucial part of the program, allowing teachers to revisit work with The Victoria Institute team and to progress their applied curriculum projects.
'Educators will have the chance to consolidate their newly acquired knowledge and observe Australian educators in the arts. This first-hand experience will assist them to develop tactics for enacting their own work,' says Roger.
The Senior Teacher Programme will finish in July, when a team from The Victoria Institute will again visit Singapore for the final evaluation and reflection stage.