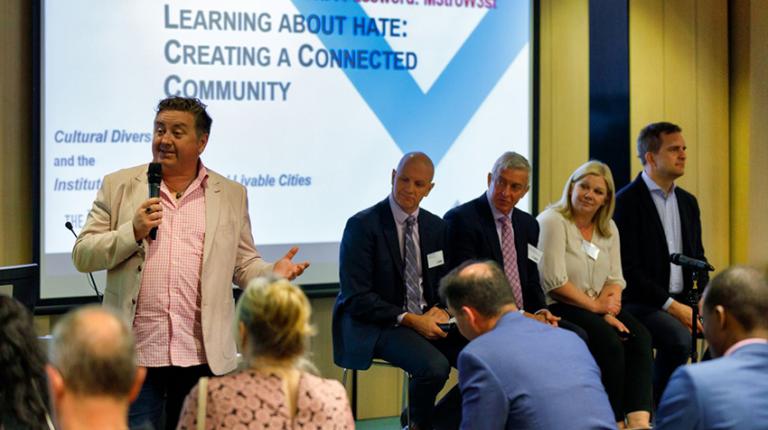 Victoria University, a world research leader in community cohesion, highlighted the challenges of countering violent extremism at a thought-provoking forum last week.
Learning about Hate: Creating a Connected Community brought together key academics, and officials from government, the community, social services, and law enforcement to explore ways to better recognise, understand and respond to far-right extremism.
Former extremists share experiences
Keynote speakers Tony McAleer of Life After Hate and Robert Orell of Exit Sweden – both former members of violent extremist groups – brought the voices of lived experience to the forum, sharing how they transformed their lives and now share their knowledge of radicalisation, disengagement and intervention strategies worldwide.
The Forum was supported by VU's Cultural Diversity Office, led by Dr Teresa De Fazio, and reflects VU's role as an inclusive and globally relevant university.
"It would be easy to dismiss hate and haters, but it is important to develop a deep understanding of its motivations to inform our work," she said.  
 "The Forum provided a unique opportunity to sit in a room and learn how to apply the right tools and knowledge to respond and build strong and resilient communities."
Rare opportunity for researcher–frontliner collaboration
Associate Professor Debra Smith shared her insights as a renowned VU researcher who has worked internationally on far-right extremism, social conflict, and social change. She co-leads Australia's Applied Security Science Partnership, which brings together police and security officials with academics to translate far-right extremism research into frontline tools and training on early intervention and diversion.
"This Forum was a rare opportunity to bring together researchers and policy-makers, grassroots, front-line practitioners, and community groups who each work to counter far-right extremism."
VU is a key member of the international think-tank the Collaborative Centre for Resilient and Inclusive Communities (CCRIC), a consortia of universities and organisations from around the world that deliver programs and inform policies to advance and enrich community cohesion.
The forum also included Chris Allen – partnerships' director of the Australian-based Institute for Economics and Peace (IEP), which works with organisations worldwide to activate positive peace.