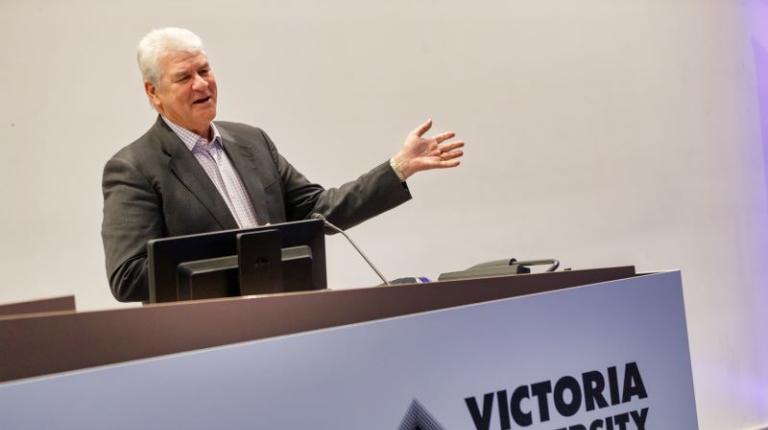 Victoria University is deeply saddened by the recent passing of Professor Peter Noonan, a passionate advocate for the role of tertiary education in transforming people's lives.
Professor Noonan's influence on tertiary education policy in Australia over 40 years as a policy adviser, researcher, and powerful advocate to government, was unparalleled – from the 1980s when he advised the Hawke government until the end of his life, when he was still active advising government and authoring insightful policy papers as an Emeritus Professor at VU.
VU's Mitchell Institute for Education and Health Policy is arguably one of his most impactful legacies. Not only did he help establish it, but he built its reputation passionately as it became one of Australia's leading policy think-tanks. He also played a central role in VU's Centre for International Research on Education Systems (CIRES).
His extraordinary career included positions as:
first national secretary of the TAFE teachers' association (1981-84);
ministerial adviser and senior executive in the Cain Victorian government, developing the Youth Guarantee and a new Victorian vocational training system (1984-87);
adviser to federal education minister John Dawkins (1987-89);
head of strategy, Victorian State Training Board (1989-92);
deputy, then acting head of the Australian National Training Authority (1993-1999);
deputy head of the Queensland Department of Employment, Training and Industrial Relations, with responsibility for the training portfolio (1999-2001);
consultant, researcher and policy adviser (2001-14);
Professor, then Emeritus Professor of tertiary education at VU's Mitchell Institute (2014-2022).
His work helped shape Australia's modern tertiary sector
Professor Noonan's work was instrumental to several major policy changes and reviews that helped reform Australia's modern HE and VET frameworks.
This included the Bradley Review, the redesign of the HE system when he was a Principal Advisor to government during the Dawkins Revolution, and more recently as the chair of the Australian Qualifications Framework (AQF) Review.
At the Mitchell Institute, Professor Noonan led a program of research reconceptualising tertiary education as a more integrated, less hierarchical and more flexible system, with stronger connections between the vocational and higher education sectors.
In 2019, VU honoured Professor Noonan with a Vice-Chancellor's Career Achievement Award, highlighting his outstanding, and widely recognised, contributions.
When asked what achievement he was most proud of, he elected to nominate the Dawkins Revolution of the late 1980s which turned an elite system of education into one for all – no matter what background they had.
"I'm really passionate about tertiary education because it gives people the knowledge, the skills, the capability to effectively participate in the modern world."
VU Vice-Chancellor Professor Adam Shoemaker said Professor Noonan served the sector with the greatest distinction.
"His loss will be deeply felt both here at Victoria University and across Australia."
Vale Professor Peter Noonan (13 April 1955 - 23 April 2022).
Read an obituary for Professor Peter Noonan, ' Educator who saw into our future' written by Mark Burford, Peter Dawkins and Robert Pascoe in the Sydney Morning Herald (subscribers only).