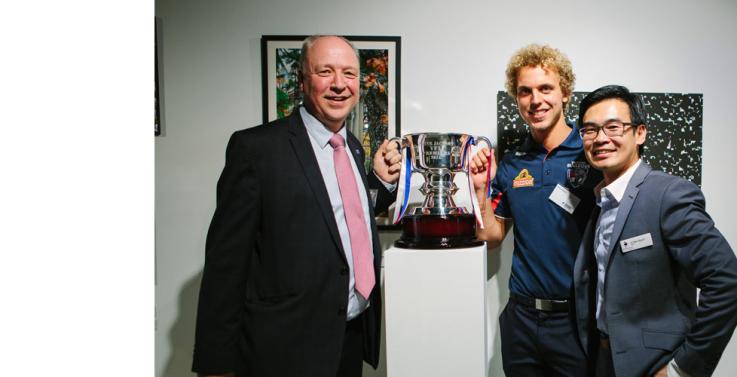 The new VU at MetroWest site at 138 Nicholson St Footscray was officially opened on Tuesday 2 December at a Victoria University launch event.
As a symbolic gesture, Victoria University Vice-Chancellor Professor Peter Dawkins and Maribyrnong City Council Mayor, Cr Nam Quach, unveiled a framed photograph of the site in front of guests from Victoria University, Maribyrnong City Council and businesses and organisations with strong Footscray links. The 2014 VFL premiership cup won by the Footscray Bulldogs was proudly shown on the night in honour of the occasion as VU is the team's major sponsor.
Victoria University has transformed 138 Nicholson Street into a modern, open plan space to bring the university and community together right in the heart of Footscray.
Wide transparent glass front doors open to a book and gift shop, a café (opening soon) and large sitting area.
Further in is a Future Students Centre, providing information about courses at VU; The Centre Space gallery; desks for casual use by the community; and a private meeting room.
Walk through the 'Doors of Opportunity' a little further in to hear, watch and see the first of a three part Centenary exhibition celebrating the formation of Footscray Technical School in 1916. The Connect 14 alumni exhibition also opened this week, on 1 December.
From the start of 2015, a VU Student-led Communication Agency will be available together with Clinical Psychology consulting rooms, staffed by students under the supervision of registered clinical psychologists.
VU at MetroWest will feature Rotunda in the West: In Conversation with Creative Australians events. The first Rotunda event at the site, with comedian Shaun Micallef, booked out in three days.
VU at MetroWest is a major Victoria University investment in Footscray University Town, a ten year project and partnership between the University and Maribyrnong City Council to make Footscray a desirable place to study, live, work, visit and invest in.
Visit the VU at MetroWest page for operating hours and more details.