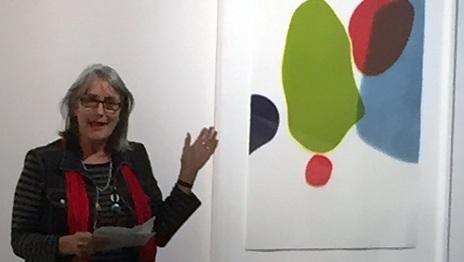 To introduce Victoria University's latest art acquisitions, an artist talk was held on 9 April at VU MetroWest where a public exhibition of three artworks from local artists is being held til 24 April.
Victoria University has a small premium art collection managed by the Library and comprising 166 works including the latest art acquisitions on display at VU at MetroWest.
The artworks acquired last year to enhance Victoria University's art collection are:
'Pre-dinner drinks', Archival, pigment based digital print on paper, by Bronek Kozka
'Detached Landscape (after Buvelot)', oil on linen, by Saffron Newey
'Speak to me', mono print on handmade rag paper, by Jane Hall
At the opening night on 9 April, artist Jane Hall provided an overview of her career, notably her year of living in Japan as a strong influence on her art, and discussed her artwork 'Speak to me'. In the absence of Saffron Newey and Bronek Kozka, Amanda Camp (an art consultant from MARS Gallery, Windsor) discussed their works.
Professor Kerri-Lee Krause, Provost and Professor of Higher Education at Victoria University, noted that these most recent acquisitions will be displayed where students can interact with them at Footscray Park Library and in a student lounge at Footscray Nicholson Campus. The display of these works might stimulate cultural awareness among students and develop more visually dynamic and welcoming campuses.
Other works from VU art collection are displayed in the Libraries where they can be appreciated by students, staff and visitors and also in offices, foyers and corridors.
The exhibition runs until 24 April.