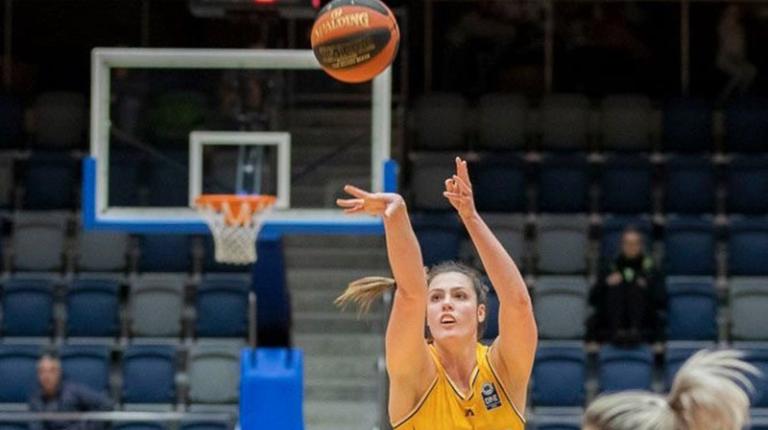 Australian Emerging Opals basketballer Lauren Scherf has been named Victoria University's Female Athlete of the Year for the second time in three years.
The Bachelor of Physical Education and Sports Science student took out the award in 2017, and held off stiff competition to be announced the winner at last night's VU Sports Awards 2019.
"It's very humbling to be honoured with this award, particularly given the high standard of female athletes we have here at Victoria University," Ms Scherf said.
The former WNBL 2015 Rookie of the Year said balancing the demands of sport and study can be challenging:
"It's tough. But if you want to be up there with the best, it's just what you have to do. That said, VU has always been flexible in allowing me to juggle professional basketball with my degree."
VU Sport Services Manager Scott Cashmere said the Female Athlete of the Year award recognises not just outstanding sporting achievement, but success in balancing study with high-performance sport as well.
"Here at VU we look at the student as a whole. We know that professional athletes have a career lifespan, particularly at that elite level," he said.
"So we want to make sure our students have the proper skills and education to help them face those challenges head-on."
It's a sentiment shared by Ms Scherf.
"Education is so important - of course, athletes need to prepare for a career after sport. But studying has been crucial for my mental health – it's given me something else to focus on so I'm not thinking about sport 24/7," she said.
"I love my course and I love VU. I pursued the subjects I loved at school – PE and Health – into the Bachelor of Physical Education and Sport Science.
"VU's elite student athlete program is one of the best in Melbourne. It helps you get the best out of your studies, and you can negotiate schedules with teachers when training and competing gets too much. VU also provided financial assistance and scholarships for travel too."
Ms Scherf was a key player with Australian UniRoos, winning back-to-back gold at the 2019 World Summer Universiade (World University Games). She also took out the 2018/19 WNBL Championship with the Canberra Capitals, before being signed to the Sydney University Flames.