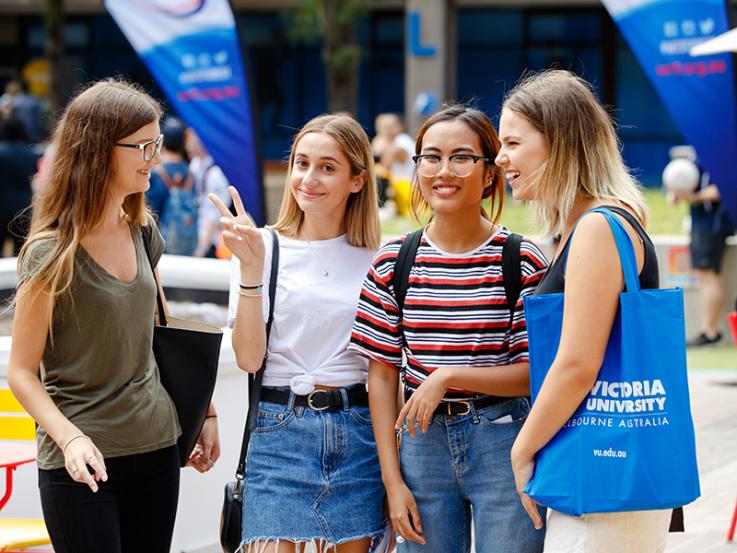 After overcoming first-day nerves and completing two weeks of studies, VU's first cohort of First Year Model students have spoken. And the news is great.
Out of 1000 students surveyed, an overwhelming 88% said they felt 'extremely happy', 'happy', or 'all good' about studying under VU's new First Year Model.
Impressive feedback for a revolutionary, Australian-first teaching approach. For those few students still working through some first-week apprehensions, the First Year Model has them covered, offering one-on-one time with teachers, smaller class sizes than our competitors, and activities that will help to build their confidence to succeed and excel.
Under the First Year Model, VU students complete their course via block delivery: one unit at a time over four weeks as opposed to four units at once over a 16 week semester. And with a focus on hands-on learning and gaining skills for the workforce, this learning experience sets VU students apart by graduating them with the practical, real-world skills they need.
Check out some of the (anonymous) comments taken from the survey below:
"I love the format, it's not so daunting working in single blocks instead of diving into four subjects at once."

"Lovin' it!"

"I'm excited personally, and to be part of a first is exciting as well."

"Good structure, good introduction to unit, available support, clear learning outcomes."

"I'm really enjoying it so far and excited about what the rest of the year has in store."

"I like the focused style of learning that is beign done at VU, I feel like it works way better for me than trying to juggle multiple topics at once."

"Loving it. It allows me to have a lot more freedom, so I can dedicate a number of hours to my uni work and a number of hours to my social life."

"Easier to get to know people in the classroom."

"Excited about the block structure. And the interaction."

"Pretty chill with the way things are going."
Stay tuned as we continue to follow the progress of our 2018 First Year Model students.