Two Victoria University staff celebrated in new art installation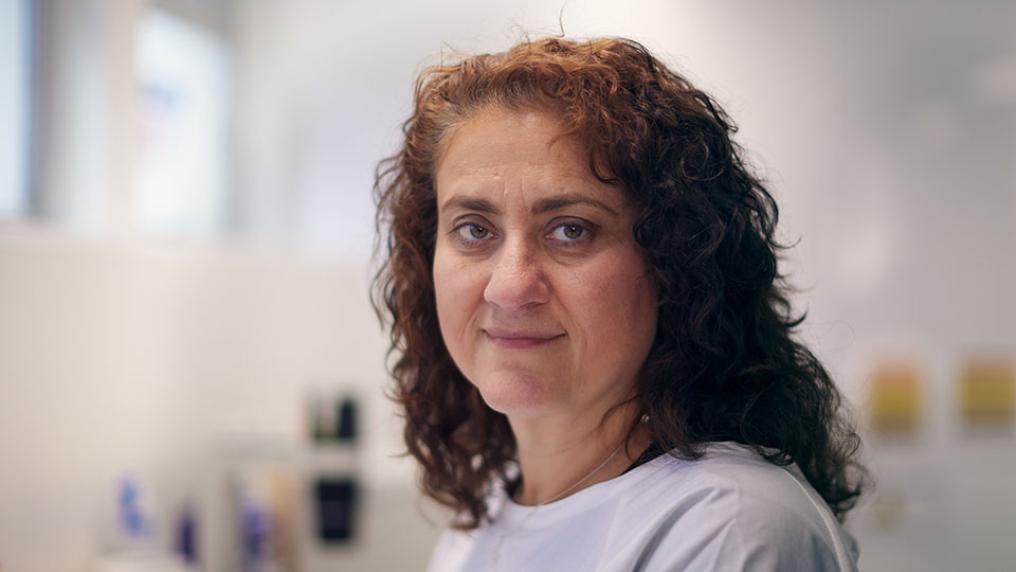 Eight large-scale photographic portraits have been installed on hoarding surrounding the new Footscray Hospital, celebrating people of the West.
Friday 31 March 2023
While the cranes located on the site of the new Footscray Hospital continue to add dramatic effect to the skyline, a striking new feature is about to be revealed to the west of Melbourne.
Faces of Footscray is an arts collaboration between Plenary Health – delivering the hospital in partnership with the Victorian Government and Western Health – and Footscray Community Arts who are the official arts partner for the new hospital.
The installation featuring eight large-scale portraits of hospital staff, volunteers and community members with accompanying short films on the Faces of Footscray website, was launched this week by the Member for Footscray Katie Hall MP.
Located on the hoarding surrounding the new Footscray Hospital along Geelong Road (Federal Street corner), the series of photographs celebrates the people of the West.
Two of the eight large-scale portraits feature individuals with strong ties to Victoria University; VU Professor Vasso Apostolopoulos, world-leading immunologist, and Bachelor of Nursing student, VU Library Assistant and Student Mentor Paw K'Pru Say Kaw.
Other figures featured in the installation include Uncle Larry Walsh (local Aboriginal Elder, leader and storyteller), Larissa MacFarlane (artist and disability advocate), Ray Pereira (musician and teacher), Betty Millett (Western Health's longest serving volunteer), Mohamed Semra (young community leader, cultural awareness and social justice advocate) and Dr Emina Hajdarevic (junior doctor at Western Health).
Local filmmaking team, Mika Tran (director and producer) and Thuy Vy (photographer), capture what makes the western region of Melbourne special and the inspiring individuals that call it home.
Born and raised in the west, Professor Apostolopoulos is not only a well-known and respected figure on campus, she also has an international reputation in Greece.
Professor Apostolopoulos was recently featured in an event organised by the Hellenic National Committee for UNESCO and the Region of Western Greece, which honoured six Greek women of the Diaspora, "who through their work have left a strong imprint in Greece and abroad."
Watch short films on Professor Apostolopoulos and Paw K'Pru Say Kaw and the Faces of Footscray trailer.