The 2023 Jean McLean Oration: A big power's loss of small wars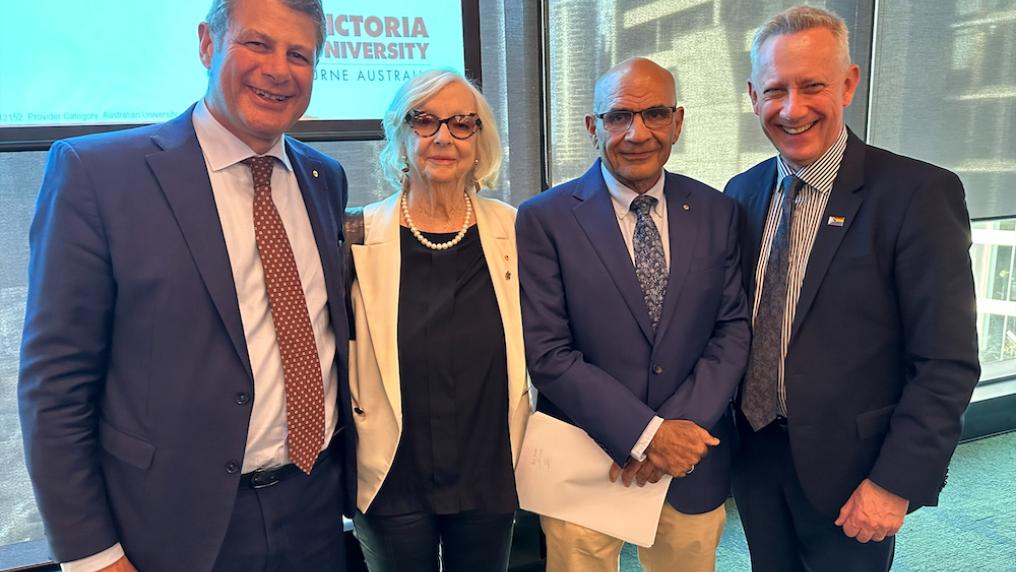 Professor Amin Saikal explored US involvement in the Vietnam, Afghanistan and Iraq wars in VU's Jean McLean Oration.
Thursday 26 October 2023
Leading academic in international relations and Middle East studies, Emeritus Professor Amin Saikal has delivered Victoria University's biennual Jean McLean Lecture. 
Founding Director of the Centre for Arab and Islamic Studies and ANU, Professor Saikal explored American involvement in third world conflicts, unravelling the common factors underpinning its losses – from the trauma of Vietnam to the complexities of Iraq and Afghanistan.  
His oration delved into the trauma of Vietnam and the complexities of Afghanistan and Iraq, in which the US found itself involved in unwinnable wars. 
"While failing to quell the Pakistan-backed Taliban-led armed opposition, it took two strong critics of the Afghanistan war, the new nationalist, impulsive Republican President Donald Trump, and his politically savvy Democratic successor Joe Biden, to call it a day in Afghanistan," Professor Saikal said. 
He pointed out a theme Vietnam, Iraq and Afghanistan have in common is that the US couldn't secure a credible and effective partner on the ground.  
Every leader and government the United States backed in these countries turned out to be incompetent, manipulative and unpopular, presiding over widely cryptocratic and dysfunctional systems of governance.
Professor Saikal also said the US failed to sell its invasion and fulfill its original promises to the people of these countries. 
"The US defined its prime objective and motivation as bringing stability, security, prosperity and democracy. However, as the United States failed over time to make progress in any of these areas, a majority of the people grew disillusioned with America's involvement, losing faith in the United States and the governments that it had propped up," he said. 
Professor Saikal concluded by referring to the current Ukraine and Russia, and Israel and Gaza conflicts. 
"It's not surprising President Biden has affirmed a defence of Ukraine against Russian aggression and in support of Israel against attacks on Israel by the militant Palestinian Islamist group, Hamas," he said.  
Let's hope the United States' indirect involvement in these conflicts will not go down the same path as its direct intervention in Vietnam, Iraq and Afghanistan.
The Jean Mclean Oration honours the long and distinguished career of The Hon. Jean McLean AM as a politician and an activist. She has made significant contributions to public life, in particular to Timor-Leste and the Save Our Sons movement.