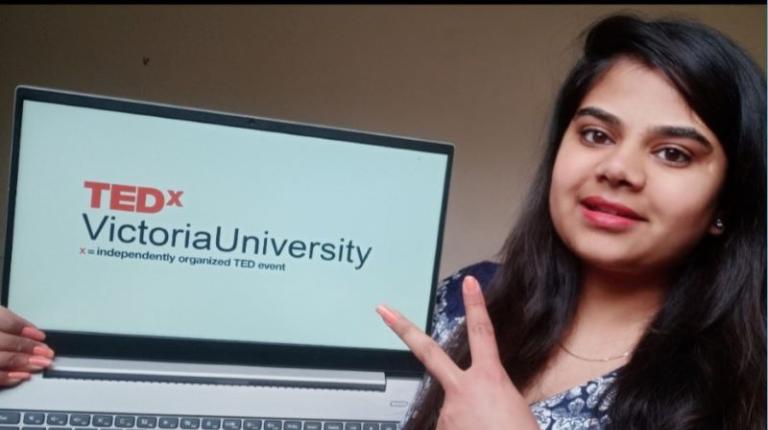 A team of inspired VU students is organising a TEDx Talk–like event on 5 November that will offer students, staff, and the wider VU community the chance to unleash their ideas and inspire others.
TEDxVictoriaUniversity will include short, carefully prepared talks, demonstrations and performances from what is expected to be a wide range of 'ideas worth sharing' from the VU community.
Event curator and licensee Vishwa Mehta, an international student in the second year of a Master of Business degree, said the event will help participants step over their 'knowledge-action gap' and move from 'thinking to doing'.
"Students, staff and volunteers can build on their ideas and spread their vision through the global platform of TEDx – something that's never been done before at VU," she said. 
"COVID gives us a chance to focus on the power of ideas to change lives, and ultimately the world," she said.  "This event aims to make a positive impact on VU students and inspire them to take action on their own ideas to make the world a better place."
Speakers will be supported to rehearse their presentations before the event.
Vishwa's team of five talented and hard-working students are: Alexander Haw (event coordinator), Oliver Kaiser (marketing and social media), Mevan Fernando (finance and IT support), and Chloe Wylie (administrator).
The team is now hard at work organising a live event to best present the TEDx experience to speakers and the audience, but they are also ready to hold a virtual event if required.
Register your interest to speak at TEDxVictoriaUniversity by 4 August.
TEDxVictoriaUniversity is supported by VU's Student Services Amenities Fees, and the VU Academy under its director, Associate Professor Thinh Nguyen.
TEDx is an independent community initiative run in the spirit of TED Talks and operated under its licence.