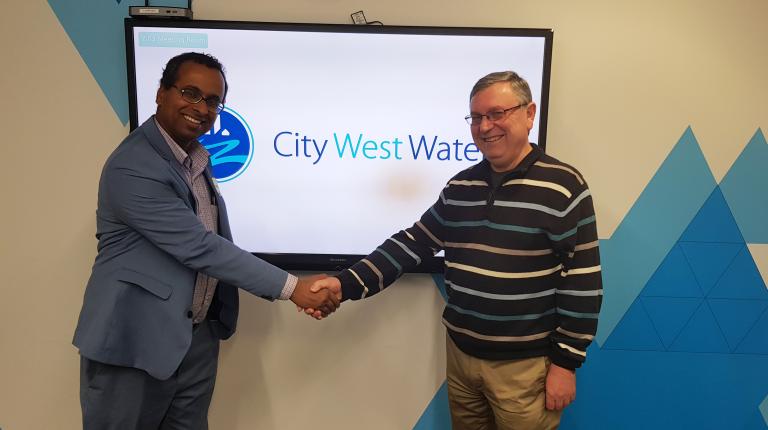 Victoria University engineering researchers are collaborating with a leading water retailer in Melbourne to harness excess water pressure in water pipelines and convert it into valuable and environmentally-friendly clean energy.
Dr Nitin Muttil and his team are working with City West Water (CWW) on a project that uses hydro turbines to generate energy from the water pressure in pipes. The turbines use pressure that builds up in gravity-fed water pipes between elevated reservoir sources and thousands of households and businesses that CWW serves in Melbourne's west.
Most water agencies in Australia use pressure reducing valves (PRVs) in the pipelines to reduce the excess pressure to around 40 to 50 metre head, as required by Australian standards (one metre head is about 10 kPa pressure).
VU researchers have identified several locations in the CWW network where hydro turbines can convert excess water pressure into energy, day or night and rain or shine, without disrupting water flows to customers.
Dr Muttil, a senior lecturer in water resources engineering in VU's College of Engineering and Science, said the future opportunities for this source of renewable energy are huge.
He estimated the total renewable energy yield from a pilot site in Keilor Park to be around 300 megawatt hours (MWh) per year – or enough energy to power about 100 homes for a year – that can be sold into the state's electricity grid to generate revenue for the water utility.
The resulting greenhouse gas emission savings of about 300,000 kilograms a year makes the extracted energy environmentally friendly.
Extraordinary environmental benefits to be gained
The generated renewable energy will allow CWW to move a step closer in meeting its emission reduction targets. It will also provide additional revenue for the company through the Australian government's Large Scale Generation Certificate (LGCs) program. This program allows companies to create certificates for every megawatt hour of power they generate, which can be sold to energy retailers.
Mr Chris Arabatzoudis, CWW Integrated Water Cycle Management and Liveability Team Leader, played a critical role in this research and its subsequent transformation to CWW's water network.
"The outcome of this research has been extraordinary, not just to CWW, but also to its customers and to the environment," said Mr Arabatzoudis.
An additional benefit of reducing excess pressure in the water network is the potential it has to make CWW's water network less prone to bursts and leaks.
Dr Muttil, his colleagues, and his students have collaborated with City West Water on a variety of projects for more than a decade.
This study, Assessing the Potential for Recovery of Excess Energy from the City West Water Network, was recently shortlisted from more than 150 applicants across Australia for a 2019 BHERT Award (Business/Higher Education Round Table) for its outstanding collaboration in research and development.