Wednesday 28 September 2016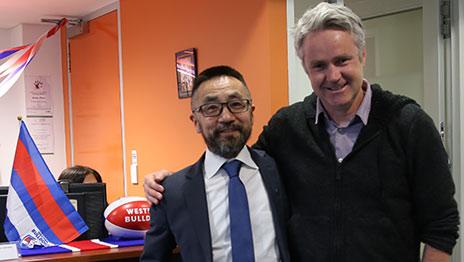 Can adhering to obscure rituals – or even wearing the "right" coloured underpants – help a losing team win?
That's the question VU's Dr Keis Ohtsuka had to field during a recent interview with The Project.
With the AFL Grand Final only days away, Channel Ten's The Project visited Victoria University's Footscray Park campus to interview Dr Keis Ohtsuka, senior lecturer in Psychology.
Dr Ohtsuka and The Project's Julian Schiller sat down to talk about the psychology behind superstition and sport.
The interview, filmed over an hour, explored the power of superstition, especially when it comes to large sporting events.
The last time the Western Bulldogs won a premiership was back in 1954. After waiting 62 years, fans far and wide are hoping 2016 will be the year of the big win.
Can Dr Ohtsuka pick a winner? Show your support for VU and our partners the Western Bulldogs by tuning into The Project on Friday, 30 September at 6.30pm, and find out.