Thursday 20 September 2012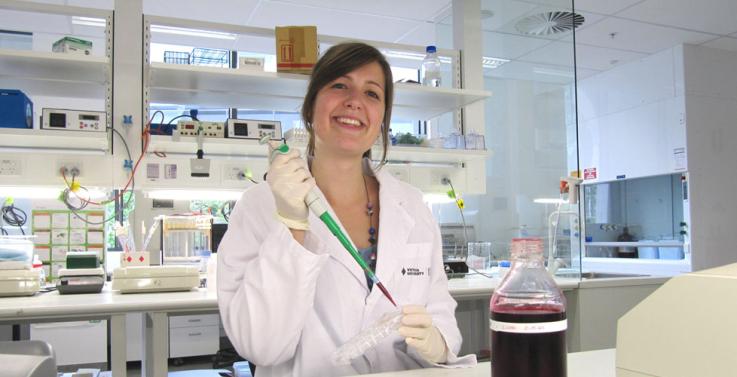 Midway through her 10-week research scholarship, German student Stefanie Gärttner is feeling right at home in Footscray.
The 25-year-old nutrition student arrived last month after passing a tough selection process in the German government's DAAD-RISE program, which sends undergraduate to post doctoral students abroad to work on international research projects.
"I'm feeling so good about being here at Victoria University: I'm so at-home and comfortable I don't even feel like a foreigner anymore," Stefanie says.
Under Dr Nir Eynon's supervision, Stefanie is spending most of her time analysing proteins from muscle biopsy blood samples in the Institute for Sport, Exercise and Active Living labs.
"All the ISEAL researchers I'm working with have been really nice to me and I've been impressed by the modern and fresh lab facilities there too," she says. "I'll leave here with a definite improvement in my blood testing skills and I was really happy to discover all my extracted DNA samples have so far been successful."
Stefanie says the DAAD program is a great opportunity to see how researchers operate in other universities, but outside the lab too Stefanie is learning lots from her first time in Australia.
Originally from Stuttgart, Stefanie has completed 4 years of nutrition at Friedrich Schiller Universität in the "cute little university city" of Jena, central Germany.
The change from life there in her own apartment to life here in a Footscray share house of eight students and a Kelpie has been huge, but she has taken it in her stride.
"It was confronting at first but I've since discovered how great it is to know so many people from different backgrounds in such a multicultural and diverse place," she said. "Now I'm really enjoying that part of it too."
In late October Stefanie will farewell Victoria University to complete her degree in Germany, before deciding whether to continue with a PhD or look for work in the nutrition field.
"Either way I'd like to stay in research because I enjoy that feeling of covering new ground," she says. "I've always been really curious and I think that's why I enjoy research so much."