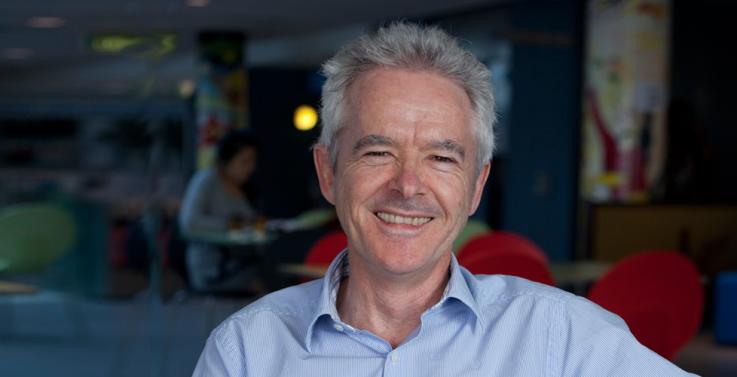 The Director of the new Centre for Cultural Diversity and Wellbeing, Professor Kevin McDonald, describes himself as a social scientist of how change occurs.
After years living, working and studying around the world he says he's still driven by a curiosity for how diverse communities work, particularly in the context of increasingly globalised and mobile societies.
In the late 1990s he undertook a large study of youth experience in Melbourne's west, while recently he has lived in the United Kingdom where he was researching social violence as part of a European Union Marie Curie fellowship.
McDonald studied at the French Ecole des Hautes Etudes en Science Sociales from 1978 to 1986, and in 2008 went back there to spend a year teaching in the doctoral programme.
The fluent French and Spanish speaker completed his doctorate under sociologist Alain Touraine, one of the most important European sociologists of the twentieth century, who pioneered the sociology of social movements and the study of post-industrial societies.
McDonald has since spent 10 years at the University of Melbourne and other educational institutions. He is a volunteer with the UK-based Council for Assisting Refugee Academics, where he is involved in its Jordan-based programme of support for Iraqi academic refugees. One project involves using community theatre for reconciliation in Basra, Iraq.
McDonald also has a book coming out on subjective experiences of violence, drawing on interviews of those around the edges of terrorism in Britain, Australia and Spain.
"By looking at personal paths into violence we often find it's driven by a search for release and a fascination with the unknown more than anything else," he says.
Now as director of Victoria University's newest research centre, McDonald says he is looking forward to "bringing people together in new ways to produce new synergies and outputs".
"There is so much interesting research going on at Victoria University around community diversity and that was one of the attractions for me," he says.
He explains one of the new centre's major roles will be to ensure research outcomes are relevant to the community, government and business, and which have international impact in scientific disciplines.
"We need to be confident in the quality of our work and as researchers understand where our research fits into debates in each discipline and have the confidence to jump in and add to that story," he says.
The Centre will build three transdisciplinary research programmes: Mobilities, transitions and resilience; Cultural diversity, technologies and creativity; Wellbeing, embodiment and diversity.
The new Centre has a strong emphasis on social media, both in research and in the way centre members work together and with partners. The centre's twitter handle is @ccdw_research.