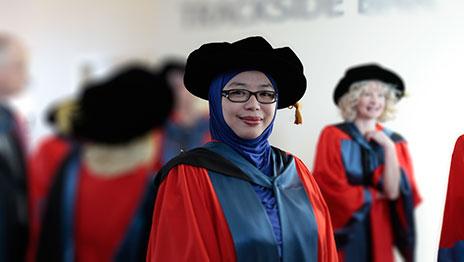 Research is not just about finding cures for disease. Some projects work on cures for an ailing business environment
During the Global Financial Crisis of 2008, organisations around the world had their lack of transparency exposed and the consequences for many investors were dire. The crisis led to an urgent global focus on corporate compliance.
Dr Aida Maria Ismail was an academic at University Teknologi MARA Malaysia during the global meltdown. Being a small, open and export-dependent country, Malaysia was not spared from the shock. The prevailing perception was that corporate reporting statements were not always consistent with what was actually happening in companies. She was excited by the Malaysian government's commitment to a national integrity plan but questioned how integrity claims could ever be verified.
Through her PhD research, Dr Ismail sought to provide models of best practice in corporate integrity for Malaysia's publicly listed companies.
"Our students often have scholarships from their governments or universities and are experienced leaders in their work environments" says doctoral supervisor Dr Anona Armstrong. "Aida Maria was committed to creating a tangible tool that would benefit Malaysian businesses. While we supervisors provide the guidance, it's Aida Maria's determination and resourcefulness that has been fundamental to her success."
"Anona understood what I wanted to do with my research" says Dr Ismail. "I think it's really important that a potential supervisor will appreciate your idea rather than given you direction on what to do."
Under the supervision of Victoria University's Dr Anona Armstrong and Dr Colin Clark, Dr Ismail developed an innovative tool to measure corporate integrity, the Corporate Integrity Scanner. The scanner measures an organisation's governance practices compared with the Malaysian and international criteria for best practice governance. It enables an organisation to identify where its integrity may be lacking and where action needs to be taken. The research, presented at conferences in Malaysia, the UK and Europe, confirmed the reliability of the corporate governance indicators used.
Dr Ismail's Corporate Integrity Scanner has been submitted into the Malaysian International Innovation Design and Articulation 2013. This annual competition is a platform for students to deliver innovation concepts that have the potential to be commercialised.
Malaysian corporations have been eager to get involved in the project since a quantifiable integrity measure will not only enhance the reputation of their business, but could lead to its increased value on the share market.
The Director of the Malaysian Institute of Integrity has taken notice of the tool and will be looking to incorporate it when assessing the integrity of Malaysian companies.