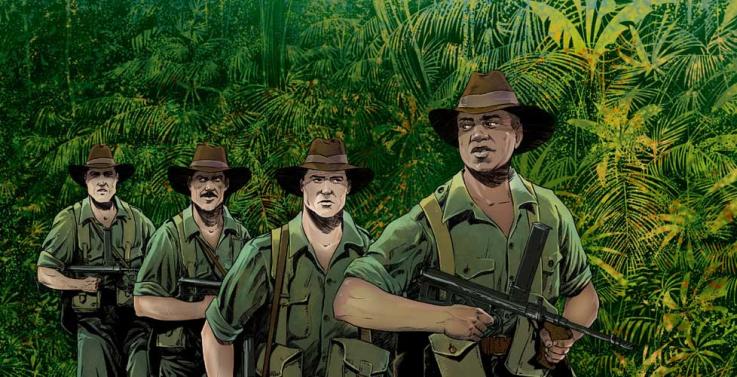 The little-known story of Reg Saunders, the first Indigenous Australian to become an officer in the Army, has now been told in graphic format.
Victoria University historian Dr Adrian Threlfall hopes the latest book in his graphic series Reg Saunders: An Indigenous war hero, will take this important story to a new, younger audience.
"Reg Sanders is truly unique as the first commissioned officer of the Australian Army at a time, in the 1940s, when Aboriginal people weren't even officially allowed into the Army due to policy stipulating all members had to be 'of substantially European origin'," Dr Threlfall said.
"Ironically he found the Army was the one place he didn't experience racism, because as long as you are a good soldier, nobody cares what colour your skin is."
Reg Saunders MBE (1920–90) not only survived the World War II battlefields in the Middle East, North Africa, Greece, Crete and New Guinea, but excelled as a military leader. He was recommended for officer training and, in 1944, returned to New Guinea as a platoon commander – the first Aboriginal Australian to serve as a commissioned officer.
"The fascinating tale follows what happened during the war to transform a determined young man from country Victoria into a war hero – one who would go on to serve with distinction in the Korean War, and become a pioneering figure for Indigenous rights," he said.
Dr Thelfall, who is also an education officer at Melbourne's Shrine of Remembrance, said the non-fiction comic was historically accurate, from the weapons and uniforms depicted to the dialogue all sourced from interviews and records from the time.
"It is a true and accurate historical text in the form of a comic, which we hope will get this great Australian story across to more younger people who are not so likely to read a text book on the topic."
Reg Saunders: An Indigenous war hero is available now through New South books.