Proud to be part of pride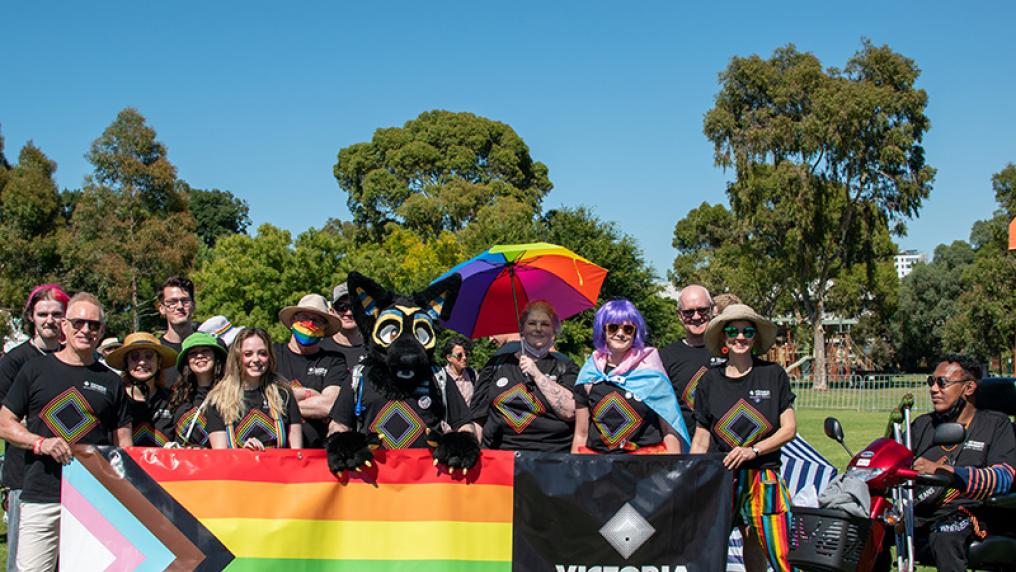 For the second year in row, Victoria University showed its true colours at the 26th Midsumma Festival Pride March
Monday 07 February 2022
Melbourne delivered the perfect summer day as people gathered on Sunday to proudly support the 26th Midsumma Festival Pride March.
For the second year in row, Victoria University joined students and staff, along with approximately nine thousand enthusiastic festival-goers, cheering and dancing in a sea of rainbow flags, sequins and banners. The group boogied to their own anthem, disco beat with a meaningful message, written and recorded by Pride and Ally Network member Heather Marsh.
The Pride March down Fitzroy Street, St Kilda was led by Boon Wurrung Elders and a rainbow Aboriginal float along with the Premier of Victoria, Minister for Equality and the Creative Industries and Commissioner for Gender and Sexuality.
Around thirty students, staff and their families represented VU, along with Vice-Chancellor Adam Shoemaker, Deputy VC People & Organisation Peter Radoll, CEO VU Online Michael Ratcliff, Executive Director Engagement & Advancement and Executive Sponsor Pride & Ally Network Ross Coller, VUSU  President Kate Benesovsky and VUSU LGBTQIA+ Officers Chandra Altoff and Emily Bartush.
Academic Director VU Online Chris Walsh said he felt incredibly proud to have the support of the University on such a special day. "As a member of the LGBTQIA+ community, I'm really excited to have participated in VU's second Pride March. I am proud to share this day with VU students and staff and everyone else our community. Visibility is so important, especially for new students, to see members of the community out and proud. There's a lot of power in unity."
Julia Earley, Senior Coordinator, Inclusion and Engagement, said VU's representation meant a lot, personally and professionally. "For VU to be out and proud in such a public way sends such a strong, public message. I think it's important to get involved because even today, millions of LGBTQIA+ people suffer an enormous amount of discrimination, so it's really crucial that VU is taking a stand and saying that's not something we're OK with."    
Due to good timing and Victoria's high vaccinations rates, Midsumma Festival Pride March was one of the first events lucky enough to take place IRL (in real life). For VU students, it was also an opportunity to meet with classmates. First year Bachelor of Laws/Arts student Holly said having the opportunity to meet up in person felt "Just so good to be with people again!" 
Find out more about VU's Pride and Ally Network