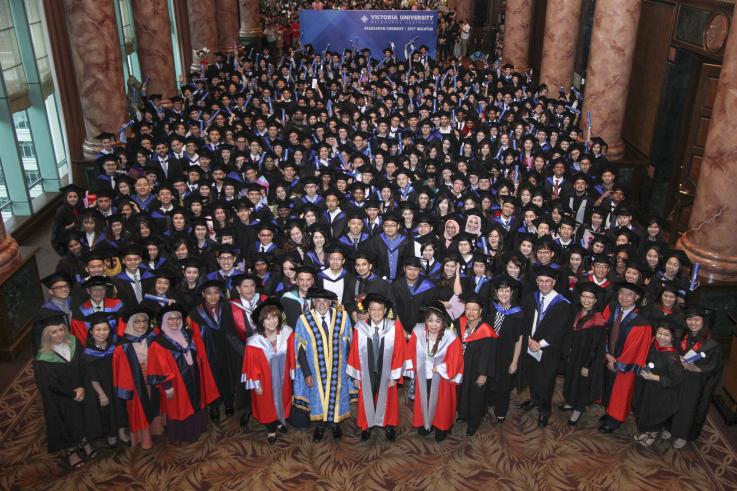 More than 350 students studying VU courses at Sunway University in Malaysia, and elsewhere, received their qualification at the annual VU Malaysia ceremony in Kuala Lumpur.
Held on Sunday 9 April, the Malaysia 2017 graduation ceremony saw 370 graduands receive their degrees in disciplines including education, business, engineering and science. Four doctoral degrees were conferred, representing the pinnacle of educational achievement.
The annual alumni celebration followed the graduation ceremony, "highlighting the excellent employment outcomes of VU courses in Malaysia, and the success of graduates," said VU Transnational Education (TNE) Director, Rhys Williams.
Carolyn Chong, VU Partnerships and Innovation Executive Director, spoke of the partnership between VU and Sunway Education Group as "a very deep and successful one," reflecting VU's strong international engagement.
"It represents the best of what transnational education should provide – high-quality and high-value courses leading to excellent graduate employment outcomes, two-way student mobility, and capability development for both partners and recognition by industry," Ms Chong said.
"The graduation ceremony highlighted these outcomes in a truly international ceremony addressed by Tan Sri Dato' Seri Dr. Jeffrey Cheah AO, the Founder and Chairman of Sunway Group."
VU has delivered qualifications in Malaysia for more than 20 years. Under this valuable partnership, students have the opportunity to study VU degrees in Malaysia or transfer to VU Melbourne for part of their study.