Wednesday 21 October 2015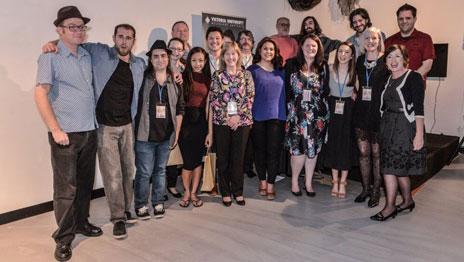 Victoria University launched the 15th edition of its student-produced Creative Arts Journal, Offset last week.
The multi-platform project is developed and published each year by a select team of third-year College of Arts students. It includes artwork, photography, poetry, music and film from VU students, as well as from national and international contributors – even in languages other than English.
Professional Writing and Literary Studies lecturer Dr Ian Syson created the project in 2001 to showcase the work of Victoria University students.
Offset's growing profile in the writing and arts communities as a quality literary journal has enabled it to source and publish increasingly diverse works over the years.
Emerging writers and artists are published alongside the works of featured professionals. Previous editions have included author Kate Holden, comedian and actor Nazeem Hussain, and social commentator Van Badham.
This edition featured the remarkable talents of poet Oscar Schwartz, sculptor Jackie Ralph and flamenco music group, Terra.
VU at MetroWest hosted the launch of Offset 15 on Friday 16 October with special guests Maribyrnong City Council Mayor Nam Quach, and representatives from award sponsors, Writers' Victoria and Australian Poetry.
Team members from past and present editions welcomed opening night guests with food and drink before they were invited to view selected work from the journal in MetroWest's gallery space.
Offset 15's art and multimedia components will be on display at VU at MetroWest (138 Nicholson Street, Footscray) until 30 October.