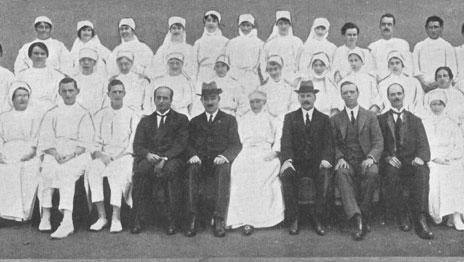 VU predecessor institute, Footscray Technical School (FTS) played a key role in supporting returning ANZACs when it was turned into an emergency hospital during WWI.
The influenza pandemic of 1918-1919, which began in the trenches of the Western Front, caused greater loss of life than all the soldiers' deaths across the four years of the First World War.
The pandemic was brought to Australia by returning soldiers.
Footscray was alert to the danger even before it arrived. The Footscray City Council, with the cooperation of FTS founder and principal, Arch Hoadley, helped transform the school -- now the site of VU's Footscray Nicholson Campus -- into hospital wards.
Nurses and orderlies were housed in tents on the school grounds.
Principal Hoadley volunteered as superintendent of the hospital and many of his staff became nurses.
Students were sent to the South Melbourne Technical School during this time, with the Council and FTS providing their train fares so they weren't disadvantaged.
Within a week of its opening, the make-shift hospital was flooded with hundreds of patients, and described as the best equipped hospital outside central Melbourne.
Principal Hoadley's civic patriotism asserted the high value that Footscray Technical School placed on community involvement and co-operation.
Victoria University Vice-Chancellor, Peter Dawkins says such rich history in Footscray is a valuable part of the University today as it continues to work closely with the council and broader community.