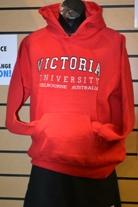 A new range of Victoria University clothing is now available from the Bookshop.

Winter hoodies, caps and beanies are in-store now and colourful t-shirts will be in-store in the coming weeks
The winter hoodies are in the traditional Oxford Style print. With a comfortable, warm and long wearing garment, it's easy to show off your university with pride. They are available in mens and ladies sizes.