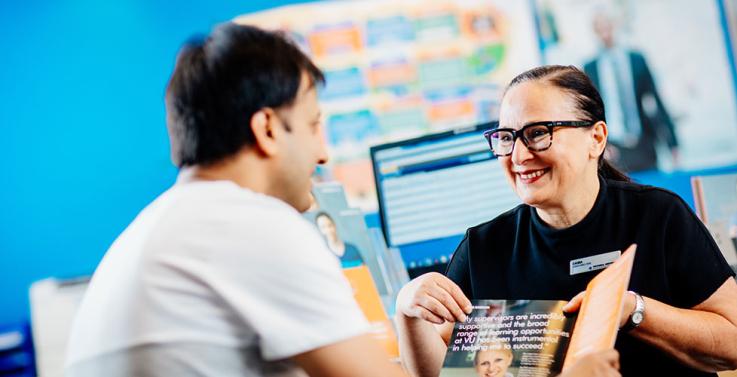 The west of Melbourne will soon be serviced by three new Skills and Jobs Centres as part of a state-wide initiative.
Victoria University Polytechnic, the recently formed TAFE Division of Victoria University, will run the Centres, which will be located at VU's Footscray MetroWest location, Sunshine and Melton.
The Skills and Jobs Centres will offer free advice to prospective TAFE students, workers and employers. Free advice and guidance will be available to those seeking to develop new skills, expand on current skills, or who are in need of work and careers advice.
Grant Dreher, Vice President for Vocational Education at Victoria University Polytechnic said, "Each Centre provides a starting point, a place to get sound advice on job opportunities now and into the future and accurate advice on vocational training options, these services will be linked to a range of other support services".
The establishments are part of a State Government initiative to open one-stop-shop centres which liaise directly with local employers, and provide services for prospective students, apprentices, trainees, and unemployed or transitioning workers. "This $15 million in Andrews Labor Government funding for Skills and Jobs Centres will help all our TAFEs build on those vitally important links with industry to make sure Victorians get the skills they need to find a job," said Minister for Training and Skills Steve Herbert.
Services for prospective TAFE students and industry clients include:
skills assessments
knowledge of in demand skills
meeting with local employers
careers' advice and counselling
information on potential jobs and the relevant training courses
talks and seminars presented by community groups and employers
workshops to improve skills and learn about employment opportunities
referrals to support services such as careers and employment, education and training, welfare and financial guidance including superannuation and disability.
The Skills and Jobs Centres can support employers by:
finding and training staff as well as identifying training options
providing knowledge on employment trends in-demand skills
helping them to understand and take advantage of incentivised government initiatives and incentives such as the Back to Work scheme and Local Industry Fund for Transition.
Centre locations and availability
VU at MetroWest (opening Wednesday 30 March 2016)
Location: 138 Nicholson Street, Footscray, VIC 3011
Operating days: Monday-Wednesday
Opening hours: 9am-5pm
VU Sunshine Campus (opening Thursday 31 March 2016)
Location: Building W, 460 Ballarat Road, Sunshine, VIC 3020
Operating days: Thursday and Friday
Opening hours: 9am-5pm
Melton
Opening to be announced.