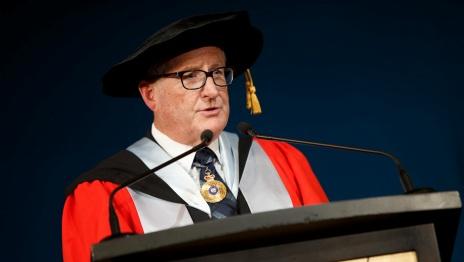 Mr Kenneth Loughnan has been awarded an Honorary Degree by Victoria University for his distinguished service to the University and the Victoria University Foundation over 20 years.
He was admitted to the degree of Doctor of the University, honoris causa.
Mr Loughnan was also recognised for his leadership in business in Australia and internationally, and for his contribution to the community, most notably through his sustained involvement, on both a national and international basis, with Variety, the Children's Charity.
He has had a long association with Victoria University, beginning in 1992, and was appointed to the Council of Victoria University in 2003 and remained a Council member until 2011.
At the ceremony, VU's Vice-Chancellor Professor Peter Dawkins said, "Mr Loughnan chaired the Victoria University Foundation from 2008 until 2011 having previously chaired the Victoria University Foundation Reference Group from 2005. In these roles he was instrumental in maintaining the Foundation as a fundraising entity for Victoria University and for guiding the establishment of a strategic approach to fundraising."
Mr Loughnan spent more than 30 years in the telecommunications industry. For eight years, from 1985 to 1993, he was Managing Director and Chief Executive Officer of Telecom Australia (International) Ltd. Following his career in telecommunications Mr Loughnan served on a wide range of Boards, many of which he chaired. He was Chairman of the Ministerial Steering Committee for Emergency Services Telecommunications in Victoria from its establishment in early 1994 until 2008 and then Deputy Chair of the State Emergency Telecommunications and Technology Steering Committee from 2008 to 2009.
Over nearly twenty years he has played a key role in outsourcing the call taking and dispatch function and the development and implementation of major communications systems for Emergency Services in Victoria. Over the period 2007 to 2011 he was appointed as a Commissioner in the Victorian Commission for Gambling Regulation and since 2007 he has been Deputy Chair of Defence Council Victoria. He is a member of the Victorian Government's Manufacturing Industry Council. In 2013 he was appointed Deputy Chair of the Victoria Police Corporate Advisory Group.
Professor Dawkins said, "In addition to his business commitments Mr Loughnan has played a major management and fundraising role for Variety, the Children's Charity, over a period of more than 18 years. His involvement, which began with him competing in 11 Variety 'Bashes' off-road across Australia in his 1965 VW Beetle, has seen him become Victorian Deputy Chair, Australian Chairman and subsequently International Vice-President, a position he still holds. He is currently playing a key role in a global restructuring of Variety to enable that organisation to take a quantum leap forward in helping children in need worldwide."