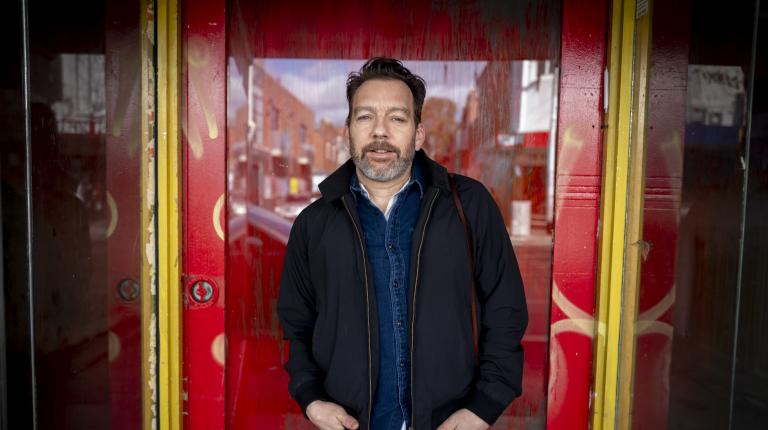 Ben Dowling and his intriguing black and white photograph titled Paisley Street was announced as the winner of the fifth Picturing Footscray Photography Prize on 13 August.
The VU in the Community team had a chat to Ben about his passion for photography, and what draws him to Footscray.  
Tell us a little bit about yourself! Is photography a passion or career?
Photography is definitely a passion/obsession. I've always been around creative people, and along with years of skateboarding and travel it was something that was always around me and I was drawn to – it was just a natural fit.
What attracts you to Footscray to take photos?
The people, along with the honest grit and uniqueness that Footscray to me has always had. It's an extremely layered suburb and the more time you spend wandering and being out on the streets taking photos you realise you haven't even touched the surface.
There's only one Footscray.
Walk us through what led you to take the winning photograph. Did you stumble upon the scene?

I generally work pretty instinctively. I saw all the elements come together and made a few frames, but, in saying that, the more you are out there the more you notice what's happening on a day-to-day basis. You can feel out if there is a photo to be had in certain locations and this was one of those spots where I saw potential.
Do you mainly work in black and white? What draws you to it instead of colour photography?
Yes, I'm mostly a black-and-white photographer these days, and I guess a bit of a traditionalist in the sense that I still shoot a lot of black-and-white film and do the developing myself and so on. I like to keep things quite simple and keep with a visual consistency. I love the look and latitude of film and I'm a sucker for a beautifully printed silver gelatin print.
How has the pandemic affected you creatively?
Very early, doors were opened before we were in complete lockdown – my good mate Jesse Marlow and I were doing large paste-up prints around Melbourne. Due to the pandemic, concerts and gigs were cancelled and the walls where bill posters were normally started to become very unloved, so we created a guerrilla gallery of sorts - myself black-and-white prints of Footscray and Jesse his bright colour work.
I have also been working on a possible book and exhibition of the work made in Footscray over the last 3+ years, with plans on showing locally and having it completed in the next 18 months or so. This photo is part of that ongoing work. The lockdown has given me a lot of time to edit!
---
View all 150 entries into Picturing Footscray in an online exhibition until Friday 11 September. Visitors can vote for their favourite photograph, which will go in the running for the People's Choice Award and $500.