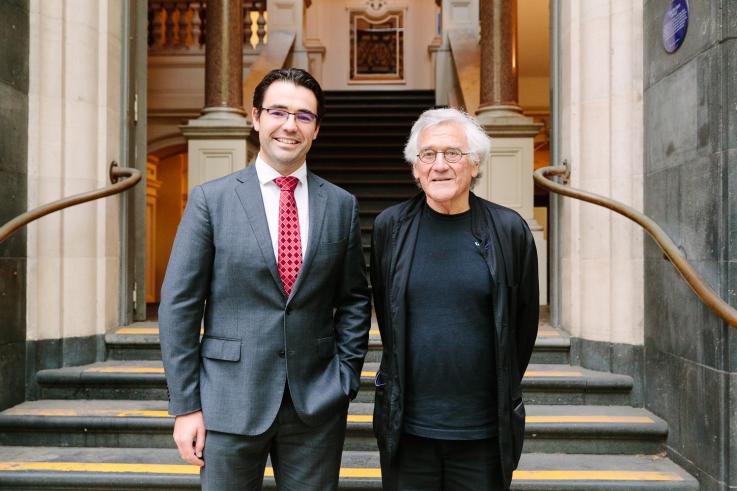 Esteemed jurist the Hon Ron Merkel QC delivered an engaging address as part of Victoria University's Public International Law Guest Speaker series.
The series, which explores issues of global significance, also provides Victoria University Law and Justice students with a unique opportunity to meet leaders in the field of Law, hear first-hand accounts of contemporary legal experiences, and network with fellow students.
The Q&A style interview was facilitated by Victoria University's Daniel Goldsworthy Lecturer, College of Law and Justice.
"We were honoured the Hon Ron Merkel QC shared his time and insights with VU students. With over four decades' experience working in Law, the Hon. Merkel QC generously shared information about past legal cases and gave VU students a glimpse into the complex, fascinating world of Australia's legal system."

 — Daniel Goldsworthy
Former Federal Court Judge and current public interest barrister at the Victorian Bar, Merkel ranged across a number of subjects, including Brexit and Miller (implications for Australian prerogative power and treaty withdrawal), racial vilification, and Andrew Bolt's Federal Court loss.
The Hon Ron Merkel QC is one of five Australian lawyers who have filed a private application in the Melbourne Magistrates Court, seeking prosecution of Aung San Suu Kyi over crimes committed against the Rohingya ethnic minority in Myanmar.
A long time advocate for Indigenous rights, the Hon Ron Merkel said Indigenous Australians were "the most discriminated race in the country - and it's getting worse."
Widely recognised as one of Australia's leading public and administrative law practitioners, the Hon Ron Merkel QC was admitted to the legal profession in March 1964 and was Called to the Bar in 1971. He was appointed Queen's Counsel in 1982 and served on the Federal Court of Australia between 1996 and 2006 after which he returned to the Bar. In December 2011, the Australian Human Rights Commission awarded him the Human Rights Medal for his extensive human rights advocacy.
On the subject of how the Melbourne-born jurist selects his cases, the Hon Ron Merkel responsed cryptically "from a small spark, a prairie fire can grow".