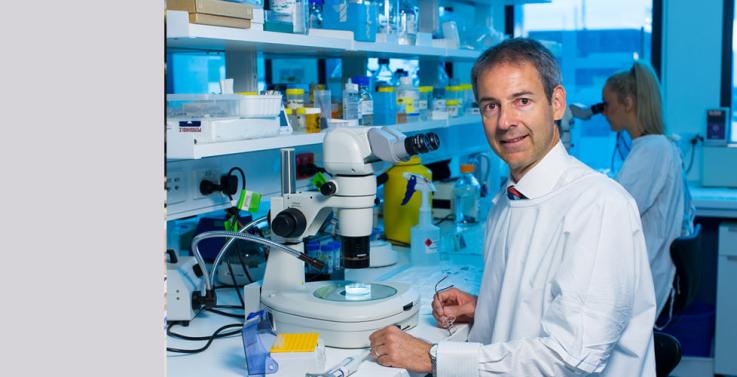 The new Centre for Chronic Disease Prevention & Management at Sunshine Hospital was officially launched on October 29.
The centre is headed by internationally renowned Global Public Health expert Professor Maximilian de Courten, who has previously worked on research projects in Europe, the United States and the Pacific, including work with the World Health Organization.
The centre focuses on the physiological, psychosocial, cultural and economic aspects of chronic diseases, which are the cause of death for more than 8 out of 10 Australians.
"Many people die of chronic diseases like heart disease, stroke, cancer, but we shouldn't forget that it is also the 'disease burden' – people living with a disease – which is very costly and significant," Professor de Courten says. "And this is not only a burden to those having the disease but also to their families and the society. Deadly diseases cause people to die prematurely, but then also chronic diseases cause a lot of suffering."
Professor de Courten says he joined the centre, at Victoria University, which aims to be a world leader in the field, partly because it would be dedicated to people living in Melbourne's west. "In order to study global health you need to be anchored within a community, otherwise you float in global policies which can run the danger of losing local relevance," he says.
"VU is in a great position, drawing on an actual community and actual residential area, learning with them, from them, to contribute to lessons which are then applicable to a much wider community beyond the west, nationally in Australia and also, hopefully, globally."
Professor de Courten says many factors that contribute to chronic disease lie outside the health sector, such as in economic policies that determine the cost of various foods or products, or laws about alcohol and tobacco sales and advertising and so on. "So, we also want to work together with urban planners – with those planning our roads, footpaths, bicycle paths, and making the relevant policies – to make them understand that what they do actually has an impact on our health."
Professor de Courten reports that, "We are negotiating and planning with one local council to create a healthier environment for residents in Melbourne's west."