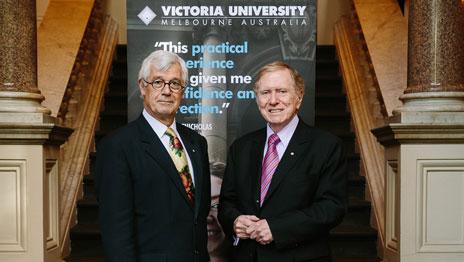 At the 4th Annual Michael Kirby Justice Oration, giant of human rights, Julian Burnside, said we are doing immense damage to the character of this country.
Internationally-renowned human rights and refugee advocate, Mr Julian Burnside AO QC presented the 4th Annual Michael Kirby Justice Oration at Victoria University's Sir Zelman Cowen Centre on 7 October.
His oration: 'Unenlightened self-interest'.
Addressing the large audience of Victoria University law students, University staff and industry guests, Mr Burnside said that a human being's basic urges of survival, comfort and justice are all drawn from self-interest.
But he said that 'enlightened' self-interest showed that mutual benefits can be obtained if you take the interests of other people into account, and that this can prevent injustice.
"It's a false calculation when someone else pays the price and you take the benefit," he said. "The idea that in a free country like Australia we can be persuaded of the rightness of allowing a person's rights to be trashed even though they are not allowed to know the evidence against them is deeply distressing."
He posed the questions: What is this doing to our national character? What is it doing to the soul of this country?
"Overseas we are seen as cruel and selfish – we are doing immense damage to the character of this country," he said.
"I fear that this sort of treatment, if it is committed for long enough, will result in us becoming a country who willingly, knowingly and without explanation or excuse puts up with the deliberate mistreatment of a minority who have been made unpopular by the dishonest observations of the government of the day.
"The Australian public has been persuaded to be uncritical of the language attached to asylum seekers."
Dr Kathy Laster, Director designate of the Sir Zelman Cowan Centre, and a former refugee, congratulated The Hon. Michael Kirby and Julian Burnside for their "continued championing of human rights and decency".
"At a time when the terms, 'refugees' and 'asylum seekers' are used pejoratively, it's very important that the refugees in the community 'come out'," Dr Laster said. "It's time to change the rhetoric on refugees; refugees and the children of refuges make a valuable contribution."
Addressing the audience, Michael Kirby said he was "encouraged that the tradition of the Centre's founder – the late Sir Zelman Cowan – of inspiring public conversations was continuing".
Sir Zelman Cowen was Australia's Governor-General from 1977 to 1982 and a distinguished legal academic. The Sir Zelman Cowen Centre delivers postgraduate and professional development courses to the judiciary and legal profession.
The Hon. Michael Kirby, a former Judge of the High Court of Australia, is an Adjunct Professor at VU's College of Law and Justice, and patron of the Annual Michael Kirby Justice Oration.