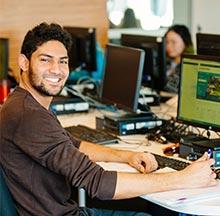 Complete the online University IT Benchmark survey and go in the draw to win! The results from the survey will help improve our IT service delivery to you.
We are inviting all staff and students to participate in the survey, which opens on Monday 19 September 2016.
Prizes
All respondents will be placed in a draw to win:
an iPad Mini 2 (if you are a student) or
2 x Gold Class movie tickets (if you are staff).
Survey details
You will receive an email from [email protected] containing the link to the online survey form.
The survey will take approximately 15 minutes to complete and:
opens 19 September 2016
closes 30 September 2016
will be run by Voice Project Pty Ltd
responses are treated confidentially
winners will be notified by email or phone.
Please take the time to provide your input as this will assist us to improve our service delivery to you and allow us to see how we compare to other Universities.
We appreciate your time in providing your feedback.