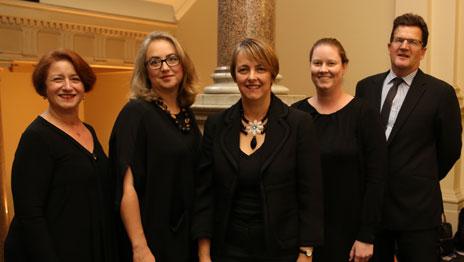 VU Law students and the community were treated to a 'Women in Law' panel discussion as part of Law Week 2014, an annual festival of events presented by the Victoria Law Foundation that makes learning about the law easy.
The Honourable Nicola Roxon, Australian's first female Attorney General, chaired the panel of experts as they gave their insights into the legal system. Dr Helen Durham, Director of International Law and Strategy, Australian Red Cross; Clare Francis, State Coordinator, Children's Court of Victoria; and Jelena Popovic, Deputy Chief Magistrate, Magistrate's Court Victoria, drew on their diverse career paths in an inspiring discussion on the role of women in the field of law and legal studies.
The selection of a magistrate, administrator, politician and humanitarian lawyer as panel members was a deliberate choice to promote different pathways to engage with the law and community issues.
With a shared vision to make the world a better place in their own way, the panellists spoke of the challenges and opportunities facing women in positions of authority, and the changing roles of women in business, education and politics. The experts outlined their personal journeys and highlighted the need to be aware of legal developments locally and globally, and to always be prepared for emerging opportunities.
Work-life balance was a rich topic during question time. The sage advice was a successful career in law requires that home and work life balance becomes a priority. The panellists agreed there was no perfect balance and that everyone juggles things their own way. The strongest messages were to be confident, remember to encourage and support other people, and to stop judging each other people who make different choices to us.
The panel's advice for the new generation of law graduates?
You won't always start in your perfect job
Think about potential stepping stones
Be ready for the next big jump – be aware of emerging opportunities
A job is what you make of it, extend and expand each job to find your niche
Seize the opportunity and make it your own
Think about what will motivate you, it might not be the money.
Listen to the audio recording of the Women in Law panel discussion.
Read the transcript of the Women in Law panel discussion .
VU law courses have been developed to give students the skills and knowledge for a changing workplace. Learn more about our courses.