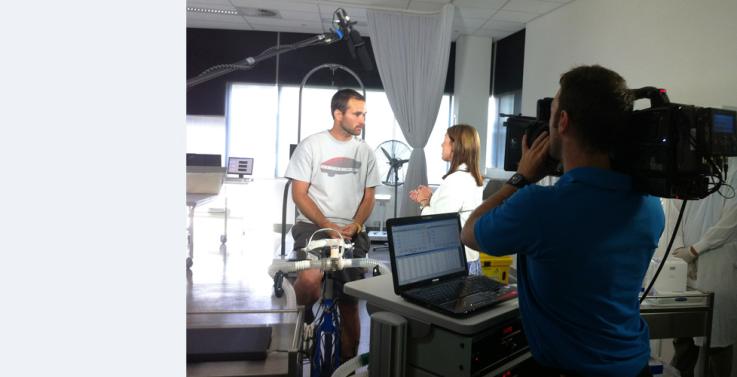 Media is increasingly providing Victoria University researchers with an audience to share their knowledge and expertise.
Victoria University academics featured in more than 1,000 media items on their research and expertise across print, online and broadcast media in 2013. This reached an estimated audience of around 60 million people in Australia, with more overseas.
Through this media our researchers have informed debates on everything from teacher quality in the Age to climate change in the Guardian, barriers to rural health care via Mamamia online and drought issues in the Australian, the science of athlete nutrition for SBS online, sports doping issues via ABC Online or breakthroughs in sustainable water technology for ABC Radio.
Victoria University's Pro-Vice Chancellor for Research & Research Training, Professor Warren Payne, said this coverage underlined the relevance of VU research to many issues facing our society.
"This media engagement is a crucial part of the University's knowledge exchange mission," Professor Payne said.
Many Victoria University researchers also share insights on contemporary issues via the Conversation news website, where professional journalists edit content from academics at universities and research institutes around the world.
Since joining the site nearly three years ago, a total of 98 Victoria University academics have published 230 articles for 867,271 readers on the site. This ranks Victoria University 16th (by readership) out of 535 universities and research institutes from the US, Europe and Australia represented on the site.
Through the Conversation's creative commons content license, around 66% of all articles are republished elsewhere.
In 2013 Victoria University published 80 articles for 458,290 individual readers, with much of this coverage around the Australian Open tennis, Tour de France cycling, the Australian Federal Election and other events in the news that year.
Victoria University's top 10 articles (by readership) for 2013 were:
Since March 2013, the @VicUniResearch twitter feed has also been letting followers know about the latest research news and academic media appearances as they happen.
And just last month the Research Matters monthly bulletin was re-launched to better support this mission of sharing new knowledge from Victoria University.
"Thanks to the hard work of researchers across the University we have some fantastic research stories to tell and as our high quality coverage demonstrates we are getting much better at telling them," Professor Payne said.