Increasing social connection for vulnerable people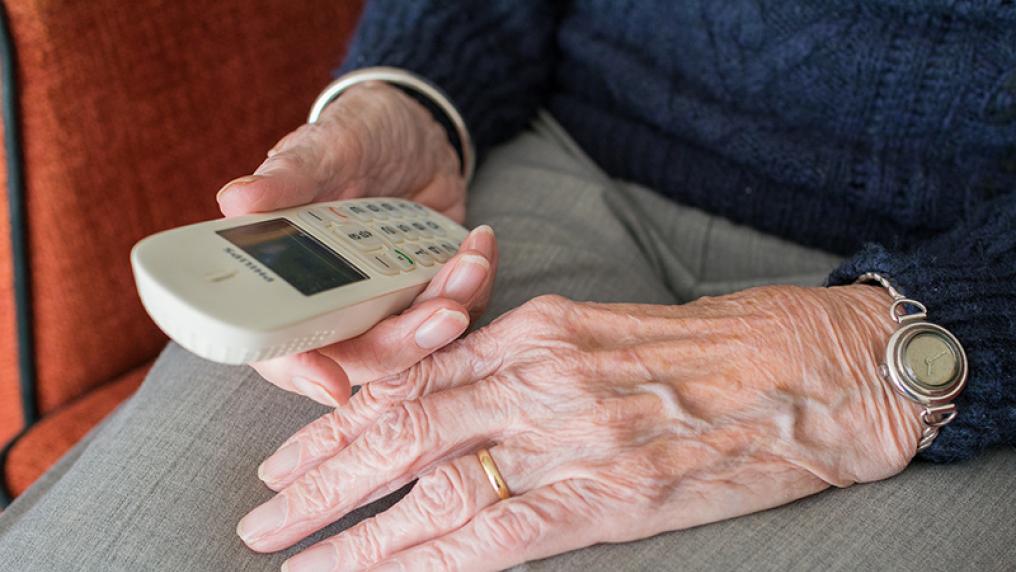 Victoria University (VU) researchers have identified a simple and effective place-based intervention for increasing social connection for vulnerable community members in times of crisis.
Wednesday 8 September 2021
Victoria University (VU) researchers have identified a simple and effective place-based intervention for increasing social connection for vulnerable community members in times of crisis.
A team of VU social work and allied health researchers examined the sense of community created by the Brimbank Community Register – a telephone-based support service delivered by volunteers in Melbourne's western suburbs.
The service is a joint initiative of Brimbank City Council and Victoria Police. It aims to reach and support vulnerable local people, including older residents and individuals living with a disability. People who join the register receive a regular telephone call from a friendly and supportive volunteer who checks in on how they are feeling.
A sustainable service delivery model
VU's Head of Social Work, Associate Professor Annie Venville, said the research examined the volunteer call service's potential to reduce feelings of fear, loneliness and isolation among vulnerable residents during Australia's second wave of the coronavirus (COVID-19) pandemic in 2020.
Loneliness has been described as an 'emerging epidemic' and a silent killer in our society. This growing social problem can be amplified during times of community crisis, such as the global pandemic.  Professor Venville said:
"Our research identifies the Brimbank Community Register as a low-cost, low-risk service delivery model that can benefit all communities wanting to reduce social isolation, while also supporting a skilled, engaged and sustainable volunteer workforce."
Staying connected in a COVID-19 epicentre
The Brimbank community was at the epicentre of Australia's second wave of COVID-19, experiencing a high number of cases due to large local coronavirus clusters.
Many Brimbank residents turned to digital communications for support and connection during the long lockdown period, however, some already vulnerable and older members of the local population did not.
Council volunteers continued to check in with people on the Community Register by phoning them once a week during the lockdowns. Members of VU's research team attended 26 weekly debriefings between council staff and volunteers during this period, to capture and analyse their experiences. They also interviewed council staff.
Key research findings
The study found that the Brimbank Community Register delivery model:
is a best-practice example of a sustainable community support program
gives the Council an insight into community sentiment
enhances connection to community for staff, residents and volunteers, and
provides a central point for access to other council services.
Three key themes emerged from the research findings as being integral to sustaining this type of community service:
The importance of care and relationships in service provision.
The need for flexibility to make service change.
Like a beating heart, the regular calls became part of the rhythm of life, providing certainty for council staff, volunteers and the individuals they called.
"As social work practitioners, we recognise the importance of creating opportunities for people experiencing social isolation to engage in meaningful relationships with local community services," said Associate Professor Venville.
"Enabling these relationships to happen is an important step in reducing loneliness, isolation and vulnerability – this helps build healthy and cohesive communities."
Committed to planetary health & the UN SDGs
VU invested in this research as part of our whole of university commitment to being a champion of planetary health. This commitment guides our contribution to advancing the UN Sustainable Development Goals. In 2020, the University allocated $1 million to 25 place-based research projects that contribute to planetary health.
This project address the following goals and their targets: 3 Good Health & Well-being | 10 Reduced Inequalities | 16 Peace, Justice & Strong Institutions
Research team
Associate Professor Annie Venville, Head of Social Work VU
Dr Wendy Rollins, Senior Lecturer in Social Work VU
Dr Tina Kostecki, Lecturer in Social Work VU
Professor Karen Willis, Professor of Allied Health LTU/RMH
"This model represents an opportunity for long-lasting local changes in social and community care practices that contribute to enhancing good health and wellbeing for vulnerable populations."
– Associate Professor Annie Venville