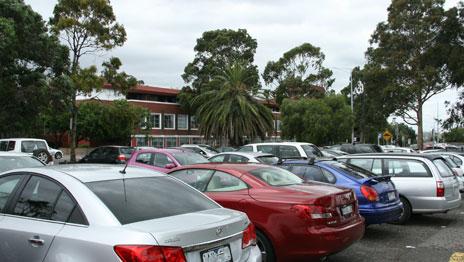 Improvements to parking at our Footscray Park Campus on Ballarat Road have begun, with asphalt works set to commence in the coming weeks and the recent introduction of a pay-by-phone ticketing system.
Asphalt works
The $4.3 million project is expected to be completed in three stages by October 2015.
The new asphalt car park will accommodate more than 900 vehicles for students, staff and visitors. It will include quality lighting, landscaping, drainage, security cameras, and improved access.
Construction is scheduled to begin 28 January 2015 and be undertaken in three phases, with each phase taking approximately three months.
Phase 1 includes the area bounded by Geelong Rd, David St and Ballarat Rd.
Phase 2 includes the area within Ballarat Rd and Tiernan St.
Phase 3 includes the area bounded by Federal St, Geelong Rd and David St.
The Facilities Department will manage the project, assisted by a project control group of regular car park users in the University community.
Pay-by-phone ticketing
We have introduced a new Pay-by-Phone ticketing system for ticket parking areas at all campuses (except city campuses which don't have dedicated VU parking). This offers the option of paying for parking with a smartphone instead of using coins at ticket machines.
Parking will be charged at an hourly rate and continue to be capped at $5 per day (including some Maribyrnong City Council parking around campus).
Benefits of using this system are that motorists:
no longer need coins to buy a ticket and display it in the windscreen
will receive a reminder by phone before their parking time expires
can remotely extend their parking time from where they are without needing to return to their vehicle
only pay for the exact time they park
can start parking early in the morning or in the evening before paid parking commences – the service only starts charging when paid parking starts
can park at multiple campuses on the same day up to the time they've purchased.
Download the EasyPark Smartphone App. If you don't have a smartphone you can continue to buy tickets at VU parking machines, or pay through EasyPark customer service on 1300 734 070.